Museum explores historic boat illustrations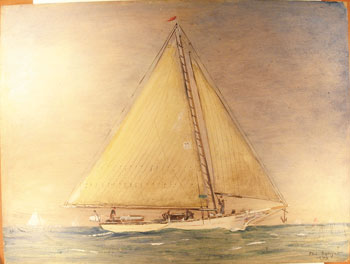 SUN PHOTO/CINDY LANE Native landscaping planted
between Anna Maria City Hall and the Island Playhouse
lost some leaves during the prolonged cold snap
earlier this month, but is expected to survive.
CORTEZ – To Roger Allen, the boxes might as well have been filled with sunken treasure.
A treasure trove of historic boat sketches has been warehoused, Indiana Jones-style, at the Smithsonian Institution in Washington D.C., just waiting for the right person to explore them.
Allen, the historic sites manager for the Florida Maritime Museum at Cortez, journeyed to the Smithsonian last month to dig through the boxes, which contain sketches and paintings by Philip Sawyer, an artist with the Historic American Merchant Marine Survey. The survey was organized by the Works Progress Administration in 1936 to record information on the design of American watercraft.
The renderings were discovered by Todd Croteau of the National Parks Service while he was preparing research to address traditional wooden boat fans at the 2009 Great Florida Gulf Coast Small Craft Festival in Cortez, said Allen, who invited Croteau to speak at the festival.
Some of the boats pictured were built by Florida boatbuilders and sailed up and down the Gulf Coast.
Museum volunteer Dan Smith plans to travel to the Smithsonian this month and finish sorting through the booty. The illustrations will be collated and presented as a grant project for possible publication, Allen said.
Some of the technical drawings are detailed enough to allow the craftsmen at the museum's traditional wooden boatbuilding program to use them as construction blueprints, he said.