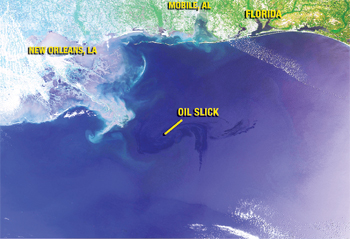 PHOTO/EUROPEAN SPACE AGENCY
Oil from the massive spill in the Gulf of Mexico can be seen
as a dark blue swirl advancing toward the Louisiana coast.
Gov. Charlie Crist declared a state of emergency in Manatee and Sarasota counties on Monday, as coastal residents anxiously waited, watched and prayed that oil gushing from the Deepwater Horizon is somehow stopped.
The oil creeping toward Florida from a deadly April 20 accident at the BP oil facility in the Gulf of Mexico off Louisiana is not the start of National Travel and Tourism Week that Anna Maria Island tourism officials had hoped for.
Beaches are open and no impacts are expected before Wednesday, Manatee County spokesman Nick Azarra said.
But as BP attempts to get to the bottom of the oil leak, county, state and federal agencies are operating full bore, preparing for the potential devastation to wildlife, shoreline property and businesses.
With hurricane-like unpredictability, estimates of the quantity of oil pouring into the Gulf and its direction vary.
The latest estimates are that the well is pumping 250,000 gallons of oil into the Gulf every day, according to Bob Tollise, hazardous materials chief at the Manatee County Public Safety Department.
"That's an Exxon Valdez," he said, comparing the crisis to a Category 5 hurricane. "You've got a volcano underwater that's spewing oil, and the leak isn't stopped."
In comparison, a one-time spill of oil from one of the three tankers that collided in Tampa Bay in August 1993 amounted to 330,000 gallons. Oil from that spill washed up on Pinellas County beaches for more than a year.
Save Our Seabirds Director Lee Fox was there, and afterwards literally wrote the book on rescuing wildlife from oil spills, the "Oiled Wildlife Preparedness Program." At BP's request, she was packed and ready to leave for the spill to coordinate the Oiled Wildlife Response Team as of press time. Donations of paper towels, electrical extension cords, Dawn liquid soap and linens are being accepted at Save Our Seabirds, 1700 Ken Thompson Parkway on City Island.
Island residents began noticing a chemical odor that many mistook for paint shortly after the accident on April 20. While the odor has dissipated, air quality is being continuously monitored by state agencies.
The Florida Department of Environmental Protection has measured baseline levels of air quality and found no air quality issues due to the spill or the subsequent attempt to burn off some of the oil on the water's surface.
No human health problems have been reported in Manatee County, Manatee Public Safety Capt. Larry Leinhauser said.
The Florida Fish and Wildlife Conservation Commission, county governments, water management districts and several federal agencies are conducting pre-impact assessments of water, sediment, fish, shellfish and habitats along the coastline.
Mote Marine Laboratory has updated its Beach Conditions Report to include oil spill impacts on local beaches, which will be similar to the report's red tide monitoring of dead fish, odor, respiratory irritation and water quality. The reports are online at www.mote.org/beaches or call 941-BEACHES.
Some Cortez commercial fishermen were off Panama City last week catching the last of the fish before a federal ban made fishing off limits. Back home on the docks, commercial fishermen are working to arrange to help deploy booms in the northern Gulf, said Karen Bell of A.P. Bell Fish Co. Interested fishermen should phone BP at 425-745-8017.
Commercial fishermen in Louisiana already have filed a class action lawsuit against BP.
Mixed blessing?
The incident could almost be a blessing in disguise, Holmes Beach Commissioner David Zaccagnino said, coming days after the Manatee County Commission passed a resolution opposing oil drilling in both state and federal waters. The resolution was a response to a plan to allow drilling between three and 10 miles from the coast that was taken off the agenda in the 2010 Florida Legislative session that ended last Friday.
Rep. Dean Cannon has announced his intention to introduce a similar bill next year, when he is expected to serve as speaker of the house. Another oil drilling supporter, Sen. Mike Haridopolos, will serve as Senate president next year.
County commissioners also stated their opposition to President Barack Obama's plan to allow drilling in the eastern Gulf, 125 miles from Florida's west coast, which he has placed on temporary hold. Current regulations prohibit drilling within 230 miles of Tampa Bay, an area used for military training exercises.
"This event certainly would give a person that was favoring Florida offshore oil development a reason for having second thoughts," said John Stevely, an organizer of the Cortez Commercial Fishing Festival and a Florida Sea Grant Extension Agent, adding that the agency is prepared to offer assistance if the oil devastates Florida shores.
Local tourism leaders, including Manatee County Tourist Development Council members and Island businessmen David Teitelbaum and Ed Chiles, have warned of dire consequences to the local economy if drilling is allowed.
"The recent oil rig explosion is a tragedy in terms of both the loss of human life and to the threat to our environment, and is precisely the reason our elected officials should take a cautious and measured approach when it comes to the issue of oil and gas exploration in the Gulf of Mexico," the Florida Restaurant and Lodging Association wrote in a press release.
For updates, visit www.amisun.com.