Gulf cabins – an oasis on the beach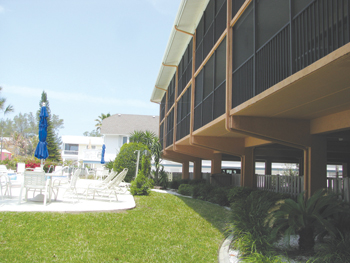 SUN PHOTO/LOUISE BOLGER
Gulf Cabins offer a Gulffront location in a lush setting.
Don't let the name fool you, Gulf Cabins condominiums is about as different from a small wooden shelter on the beach as the Queen Mary is from my 22-foot fishing boat. But as the name suggests, this boutique condominium complex is on the Gulf of Mexico, and the units do provide shelter.
Located at 2716 Gulf Drive in Holmes Beach, the 12 units that make up Gulf Cabins Condos are shaded with mature landscaping and are a little hard to spot when driving by. They are, however, directly Gulffront set back slightly from the shoreline. The setback is somewhat unique for a Gulffront setting since the area between where the pool area ends and the shoreline begins is a natural green belt looking almost landscaped with pine trees and small dunes covered in greenery.
The scene from the screened lanais looks over the nicely landscaped, free form heated pool across the natural area and then on to the gleaming Gulf – a pleasing mixture of greenery, sand and water affording a pretty and cozy view. A path leads through the low dunes from the pool area right to the beach.
Gulf Cabins were built in 1981 and are two bedrooms and two baths with about 1,400 square feet of living space including the lanais. The building is elevated with assigned parking and two living levels above with all units having water and beach views.
Rentals are permitted with weekly rates ranging between about $1,000 and $1,900 depending on time of year. There have not been any sales in over two years when a unit sold for $555,000. As of this writing there is one on the market with an island broker listed at $484,500.
The location on Gulf Drive is very convenient to everything. If you don't mind a little exercise you can walk to shopping and some restaurants. In addition, there is easy access to the island trolley for longer excursions, and you could certainly spend several days at Gulf Cabins without starting your car.
You usually associate cabins with rural areas and maybe back in the early 80's when the Gulf Cabins were built Anna Maria was a little more rural, but not anymore. Grab your beach chair and sun screen and chill out in your cabin on the beach.