Historic house goes solar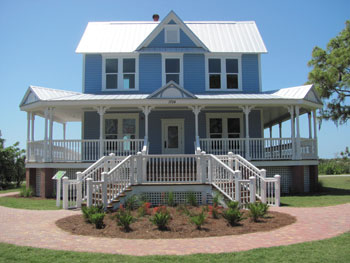 SUN PHOTOS/CINDY LANE
The historic Valentine house, circa 1886, is making history again
as the first Manatee County-owned building powered by solar energy.
BRADENTON – Manatee County has taken its first step to answer the demand for solar power in the wake of the ongoing Deepwater Horizon oil spill in the Gulf of Mexico.
Solar energy now powers the Valentine House, the new guest center that opened May 1 at the county's Robinson Preserve.
One of the oldest houses in the county, the historic home has made history again, with 15 solar panels on five structures installed by Solaris Solar Energy of Sarasota bringing it into the 21st century.
To avoid marring the look of the house by putting solar panels on the new metal roof, the company installed the panels on top of the kayak storage rack nearby, reinforcing them against high winds.
About 30 people came to learn about the solar system on Saturday morning, one commenting that solar energy just makes sense in the Sunshine State.
The Valentine House had no electricity when it was built around 1886 at the entrance to the Manatee Fruit Co. citrus grove in Palmetto; it was cooled for free by breezes from Terra Ceia Bay. Later, an attic fan cooled the house, which was barged down the Manatee River to Robinson Preserve in 2007. Now, the air conditioning is free again, at least from Florida Power and Light bills.
The panels produce so much electricity that if the FPL meter on the house was not digital, it would actually spin backwards, according to Solaris, resulting in a credit on the electric bill.
While the return on the county's investment in the solar panels will not be immediate – Solaris estimates about seven years for the unit to pay for itself – getting the first county building off the grid is compensation enough, said Charlie Hunsicker, the county's natural resources director.
"You can't put a price on it," he said.