A passion for hair care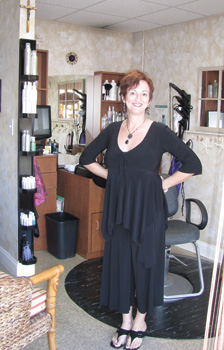 Lorie Hagele specializes in color
and cuts, but offers many more
services.
SUN PHOTO/LOUISE BOLGER
You frequently hear people say they love their work, however, most of us don't describe work as being a passion. If you view work as a passion, you're one of the lucky ones, and if you can turn that passion into helping people, you've come full circle.
Eleven years ago Lorie Hagele was looking for a Florida location to relocate to after too many cold snowy years in Chicago. Instead of going back to her native Ft. Meyers, she found Anna Maria Island through an Internet search. The first time she crossed the bridge from the mainland, she could feel herself exhale, knew she was home and never left.
Lorie Hagele has taken her 26 years of experience in the field of hair care and cosmetology and not only started her own business two years ago, but is also using that experience to help people who are less fortunate. Cuts & Color 2 Dye 4 is what Hagele likes to call a "salon studio."
What I like to call it is a mini hair salon with a beachy tropical feel right down to fish swimming on the wall. The whole front wall of the salon is a large glass sliding door which not only completely opens up the pint size space but also lets in volumes of bright light. In addition, the door serves as a handicap access for customers who may require that.
Cuts & Color 2 Dye 4 offers just about any salon service you can think of. Haircuts and color are Hagele's specialty, but she is also a licensed cosmetologist, offering all natural facial peels, skin care, waxing and make up. She has a lot of experience repairing damaged hair and fixing bad cuts. She also can arrange for nails to be done for wedding parties.
In the salon, Hagele uses and also sells John Amico products, which can be found only in salons. Her color line is exclusive Jalyd from Italy, and for cancer survivors she offers organic color.
Typical of someone who loves her work, Hagele turns her salon appointments into a teaching moment to help her customers understand their particular hair and skin challenges. She feels this sets her apart from other stylists and is an extension of her desire to help others.
And when it comes to helping others, Hagele does more than just talk about it. Last year she had a "Hair For Haiti" day, providing discounted haircuts and collecting $1,300. $1,000 was donated to the American Red Cross and $300 to St. Bernard's Church to forward directly to the needy in Haiti.
She also finds time to teach religion to first graders at St. Bernard Catholic Church, works with the American Cancer Society providing skin care and make up for cancer patients, collected hair for Locks of Love and walks the beach for Turtle Watch. She says sometimes it's just the little things that make people feel better.
Cuts & Color 2 Dye 4's customers range in age from 2 to 103 years of age, men women and children. Walk-ins are welcome, and prices are comparable to salons in the area with special savings offered. Hagele would like to thank her loyal Island clients and winter friends for helping Cuts & Color 2 Dye 4 grow during the past two years.
Hagele's passion for Anna Maria Island is almost as strong as her passion for her profession and helping others. Hair with a passion is what you'll find at Cuts & Color 2 Dye 4 from a woman whose passion is boundless.
Cuts & Color 2 Dye 4
5386 Gulf Drive
Holmes Beach
941-565-6022
Monday, Wednesday,
Thursday and Friday:
9:30 a.m. to 5 p.m.
Tuesdays upon request
Saturday: 9 a.m. to 1 p.m.
Cash and personal checks only