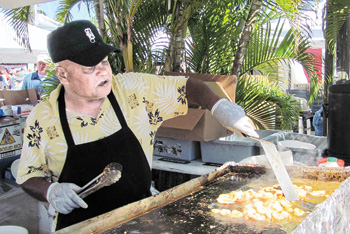 SUN PHOTOS/CINDY LANE
Seafood, such as local shrimp, above, delighted
huge crowds, below, at the 29th Annual Cortez
Commercial Fishing Festival over the weekend.
CORTEZ – The new location of the 29th Annual Cortez Commercial Fishing Festival on the east end of the historic fishing village was a hit.
Lots of shady spots and bayfront breezes cooled down visitors to the festival, which was held under sunny skies in the 70s winter temperatures that draw visitors from near and far.
The festival was held on the east end of the village in its early days, and there's good reason to revive the tradition, with the addition of the Florida Maritime Museum, a recently restored 1912 schoolhouse, several historic buildings that have been relocated around it and the FISH (Florida Institute for Saltwater Heritage) Preserve on that end of town.
The $2 admission charge benefits FISH and the 95-acre preserve on Sarasota Bay, a barrier between development and the village, which is on the National Register of Historic Places.
Visitors enjoyed the nautical art exhibits, a mechanical bull ride, films about Cortez, live music, a rock climbing wall, petting zoo, marine environmental displays and informative talks about local history.
The favorite and the reason for it all? Fresh local seafood, much of it caught by commercial fishermen based in Cortez.
Awards were presented to festival volunteers Linda Molto, Rick Viera, Bob Landry, Patty Banyas and the Cortez Kitchen by FISH treasurer Jane von Hahmann.
"Cortez is unique," she said. "It's the best example of our maritime culture."