Catching a spring break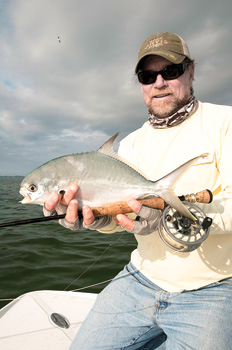 Captain Rick Grassett holds an early
season pompano that fell for a fly
on a Sarasota Bay flat.
PHOTO/RUSTY CHINNIS
Is it possible that the second abnormally cold winter in two years is over? Are we going to finally get a break? Spring break appears to have arrived early this year and not a minute too soon. Although we didn't have the catastrophic fish kill that we did last year, I still got reports of dead snook in Longboat Key canals. I'm guessing that the ones that died were stressed from last year's frigid waters. It appears that the decision to keep snook season closed was a good one and one I hope is extended.
I managed to get out twice this past week, and what I saw was mostly encouraging. The good news was that redfish had returned to the flats with some nice trout and lots of sheepshead. I used my trolling motor and worked the flats from Cortez Key near the Cortez Bridge to south of Coon Key. Unfortunately, in those four miles I saw only one snook. On Sunday, Harry Christensen joined me for two hours, and we saw numerous redfish, about two dozen trout (one that went home for dinner) and lots of sheepshead. With another week of warm temperatures forecast, I'm guessing the action will really take off over the next couple of weeks.
The reports I'm getting from Miguel and Terra Ceia bays in Tampa Bay to Charlotte Harbor and Pine Island Sound say that spring is arriving ahead of schedule. Captain Ray Markham has been reaping the rewards of the fabulous weather. According to Markham, "Most days have been very productive with trout, redfish and flounder in the catch with a few scattered black sea bass, Spanish mackerel and bluefish also are being caught in lower Tampa Bay and around the Terra Ceia Bay area."
Captain Rick Grassett also has been seeing a definite uptick in the action. Grassett has been catching increasing numbers of trout, redfish and recently Spanish mackerel, bluefish and a few pompano. Action for Grassett has steadily moved from the deep grass to more shallow flats in Sarasota Bay. Grassett has also had some excellent catch and release night fishing for snook in the Venice area.
Although it might seem early to announce spring, in years past, savvy anglers fishing Anna Maria Sound and Tampa Bay would start looking for snook to show up on the flats in late February. Along the beaches and in the bays it's water temperatures that seem to trigger inshore action and the migration of pelagic species like cobia and king mackerel. With daytime open water temperatures hovering near sixty-six degrees, water on the flats is reaching into the seventies, a seemingly magic number that really heralds the beginning of Spring. We can expect weather to fluctuate with the occasional late season cold front sending fish and bait back to deeper water. It's anybody's guess what late winter will have in store for us, but it's definitely time to prepare for the arrival of spring, a welcome break from another unusually cold winter.