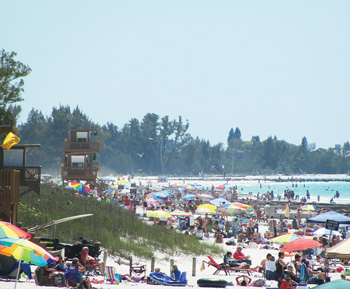 SUN PHOTO/CINDY LANE
Beachgoers packed Coquina Beach on Saturday afternoon,
tying up traffic in both directions for blocks. By all accounts,
2011 is the busiest in years for tourism.
Traffic may be creeping along, but business is brisk at the peak of the 2011 tourist season.
In fact, local retailers and tourism officials say this is one of the busiest tourist seasons they have ever seen on the Island.
Visitors are swarming local events, such as the Anna Maria Island Art League's Winterfest, the Cortez Commercial Fishing Festival, the Community Center's Tour of Homes and the Anna Maria Island Chamber of Commerce Wedding Festival, with organizers reporting record crowds.
After a record cold Florida winter and the Deepwater Horizon oil spill in the Gulf of Mexico in 2010, a bustling 2011 is welcome, Island hotelier and Manatee County Tourist Development Council member David Teitelbaum said.
"This is the best I've seen it," he said, partly because of severe winter weather in the north. "They're coming from up north, but about half are (local) residents."
"They've had a lot of snow up north and we have great weather here. It couldn't be a better situation for us," said Stephen Ananicz, chief operating officer for the Chiles Group of restaurants.
"2009 was our best year and we are ahead of those numbers a good bit," he said. He added that 2010 was marred by prolonged cold, which cuts into the outdoor seating at the company's three waterfront restaurants.
At the Sign of the Mermaid restaurant in Anna Maria, "We're doing numbers we've never done before. March is exceptional," said Ed Spring, who is celebrating his establishment's 19th year in business. He credits a wide menu and price variety, adding breakfast and lunch and good service for the boost.
People are taking to warming water in droves on paddleboards, wave runners, sailboats and kayaks at Coastal Water Sports at Silver Surf in Bradenton Beach, said Beth Cole.
"It started earlier this year than last year," she said, adding that the Gulf got warm on March 23 last year, but began to warm up on Valentine's Day this year. She's seeing visitors from the Midwest, and Florida residents on weekends.
Wayne Genthner at Wolfmouth Charters is getting twice as many charter reservations as usual, he said
"I'm booked through Easter, and it's a late Easter," he added.
"It's been busy, but I think it will be more spread out this year" because college spring breaks are spread out, said Ronee Brady, of West Coast Surf Shop in Holmes Beach.
At the Sand Dollar in Holmes Beach, first time customers are boosting numbers over last year, and at Irene's Resort Wear in Holmes Beach, "It's super, the best ever," owner Nanette Almeter said, attributing the upswing to personal service, great products and higher visibility brought by charity fashion shows.
Cedar Cove Resort in Holmes Beach is filling up every day, according to the front desk, and lines for ice cream are occasionally out the door at Dips Ice Cream and at Two Scoops, both in Anna Maria.
Visitors are crowding the Island Branch Library in Holmes Beach to use the free computers, Internet and wi-fi, librarian Eva Ehde said. She noted that large numbers of tourists are also attending the free programs.
"We have more non-resident library cards than all the other branches in the county combined," she said.
Postal workers are noticing the surge, too.
"Our revenue is up," said Rich Stevens, postal delivery supervisor and letter carrier in Bradenton Beach. He said visitors are using the post office's for-fee forwarding system, which speeds up mail forwarding. "They set weekly and monthly goals, and we're surpassing goals ever since season started."
While delivery volume is about the same, letter carriers projecting a 4 p.m. return time often are late because of traffic jams throughout the day, he said.
"That used to only happen in spring break," he said.
Increased publicity of the Island in newspapers, magazines and on television, promoted by the Bradenton Area Convention and Visitors Bureau, may have drawn some new visitors, but not all.
"Word of mouth is the main way people learn about it," said long-time winter visitor Claire Graham, of Washington D.C., who had six sets of friends visit her from out of town while she spent March in Bradenton Beach. "I saw it in the New York Times and thought that was too bad. It might become too crowded."
It's not overcrowded yet, said visitor Fran Manere, of Weston, Conn., who spends a month on the Island every March with her husband, Bob. But, she said, "There's a thin line between the paradise you have now and the nightmare it could become."