Sandpiper offers location and history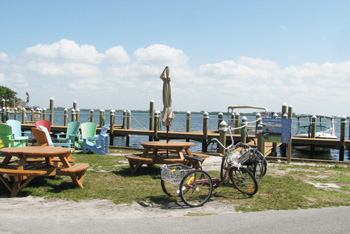 SUN PHOTO/LOUISE BOLGER
The Sandpiper has rebuilt the 14 bayfront boats
slips and docks on Anna Maria Sound.
The Sandpiper Mobil Resort is one of those Island places that's easy to miss if it's not on your radar, but this unique piece of property combines a beautiful location with quite a bit of history.
John Ringling certainly knew what he was doing in 1934 when he built the Sandpiper Mobile Park as a winter residence for his circus performers and staff. The almost 10 acres in Bradenton Beach that comprise the park are located between Gulf Drive and Anna Maria Sound at 26th Street and have one of the better waterfront locations on the island.
In 2003, when the property owner was planning on selling out to a developer, the residents organized, raised the $5 million it needed as a down payment on the property and created a co-op. At that time, shares were sold starting at $62,500, and enough people and investors stepped up to save this historic piece of waterfront.
Since then, the Sandpiper, which is a 55 plus community, has evolved into a first rate co-op organization managed by a professional management company with an on-site representative. Most of the original mobile homes have either been removed and replaced with prefab homes or updated. Some of them have cute as button front porches with colorful flowers and beachy furniture.
The roads and sewer system are all new and the association has rebuilt the 14 bayfront boat slips and docks. The slips can accommodate up to a 20 foot-boat and will be offered to interested owners through a lottery system at a cost of less than $500 a year per slip. The waterfront common area has some lovely natural landscaping, colorful Adirondack chairs and picnic tables.
The Sandpiper has on site laundry facilities, shuffleboard courts, library and a clubhouse with kitchen facilities. In fact the clubhouse is about to turn 50 years old and the association was presented with a plaque from the historical society. In addition there are two beach access locations on the other side of Gulf Drive. The co-op has 120 shares and the monthly cost for shareholders is $325, which has not changed since 2003. Non-shareholders pay higher monthly fees.
There is always an assortment of units and shares for sale. The current listing of properties for sale indicates units with shares starting at $89,900 for a one-bedroom, one-bath unit up to $445,000 for a two-bedroom, two-bath waterfront. Rentals are also very popular both seasonal and annual and updated rental and sale listings can be obtained outside of Sandpiper's clubhouse.
As you can see the Sandpiper has come a long way since John Ringling first discovered Florida's west coast in the 1930s. So don't let the Island's best kept secret escape your radar. Check out the Sandpiper Mobile Resort, a touch of history on the beach.