The secret to fishing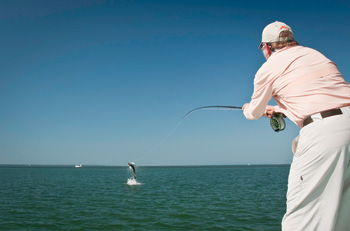 PHOTO/RUSTY CHINNIS
When you understand the secret to fishing, magic can happen!
One of the best pieces of advice I've ever gotten about fishing came from Captain Scott Moore. When he first told me, "Fish move around," the statement seemed self evident, but over time the implications became more nuanced. Another piece of fishing wisdom was gleaned from Captain Rick Grassett in his statement, "You don't know until you go." If there is a secret to fishing I think these two seasoned guides summed it up.
A couple of weeks ago, I wrote a column about the unseasonably warm weather we've been having and asked the question, "Are we getting a spring break"? A couple of weeks later I was wondering if the warming waters might mean an early migration of seasonal species like king mackerel, Spanish mackerel and cobia. To check out my idea I called Captain Justin Moore, an Anna Maria guide I knew had his ear to the ground when it came to local fish. Justin is the son of Captain Scott Moore and shares his father's uncanny sense of understanding fish behavior and leading clients to impressive catches. When I talked to Justin, he told me that although the waters in the Gulf had warmed, we were still in a winter pattern.
That conversation made me curious about what exactly goes on with fish migrations, and what factors effect their movements to near shore and inshore waters. What I discovered by talking to the Moores and several other local guides began to make sense and matched my experiences over the years. In a nutshell, it seems that truly migratory, pelagic fish depend more on length of day than they do the water temperature. If you think about it, it make sense. A warm up in early March can quickly turn around with a big cold front, plunging water temperatures. Fish that winter in the Gulf waters will follow bait school on the warm ups, but fish like king mackerel seem more likely to take their cues from the length of day. While that might be a general rule, it also seems that it's a play between temperature and the availability of a food source.
Captain Ray Markham fishes Tampa Bay and Terra Ceia Bay and when I asked his opinion he responded with the obvious statement that as days get longer, the waters will have a much better chance of warming up. More sunshine, warmer water. He had seen Spanish mackerel in the bay already, feeding on schools of glass minnows that had moved in with the warming water temperatures. The same was true with tarpon that began to show up on the Skyway and in the upper bay when the water temperatures approached 70 degrees. When the water temperatures cooled a couple of weeks ago, the bait and fish disappeared. When the water warmed up recently, they returned. As we approach late March, the water temperatures have warmed up again and with the warming trend the bait has returned to the beaches and bays as have the predator fish. Spanish mackerel have arrived following schools of glass minnows and kingfish, and cobia are on the beaches in hot pursuit of schools of threadfin herring.
If there's a lesson in this, it has to be the obvious statements that Moore and Grassett made about fish moving around and not knowing if they'll be there if you don't go. Fishing varies with the season, tides, water temperatures and it seems, most importantly with the availability of a food source. The most interesting part is the changeability of it all. While there are patterns that we can depend on to a degree, the only way to know is to go. Weather patterns, winds, cloud cover and innumerable factors we'll never know play into the equation.
Just last week I made a trip to Pine Island Sound in search of tarpon with Captain Joe Harley (www.snooktown.com). The date was chosen well in advance with the hope that conditions would be good, the weather warm and the tarpon would be present and feeding. As it turned out the stars aligned, and we found large numbers of tarpon on the flats. I managed to get lots of shots, got 9 to 10 jumps out of two big fish and had another bite, all on fly. The odd part was that Harley reported that although the weather had remained warm and stable, the tarpon fishing was not nearly as good the two following days he fished for them. In the end the lesson is to know, as Scott related, that fish move around. Armed with that information, go out and find out because as Grassett related, "You don't know until you go." Therein lies the secret to fishing.