Join Sarasota Bay Watch's Sister Key's cleanup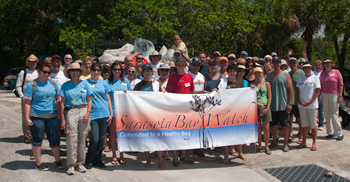 SUN FILE PHOTO
Last year's Sister Key's cleanup group pauses for a photo.
On Saturday May 7, Sarasota Bay Watch, in cooperation with the town of Longboat Key and the Chiles Group, will be holding the Third Annual Sister Keys Cleanup from 8 a.m. until 12:30 p.m. Cleanup participants will gather next to the public dock at the corner of Linley Street and Lois Avenue adjacent to the Mar Vista Dockside restaurant beginning at 8:30 a.m. Participants are encouraged to bring their own boats, kayaks or canoes, but boats will be available to transport non-boaters to the Keys courtesy of Cannons Marina.
After the Cleanup, participants will be treated to lunch from 11:30 a.m. to 12:30 p.m., courtesy of the Mar Vista restaurant. This is a great opportunity to spend a morning on the bay, experience the results of a successful mitigation project and leave the bay a cleaner and healthier environment. Participants are encouraged to dress casually (long sleeve shirts, pants, eye protection and gloves) and wear appropriate shoes to protect your feet. Don't forget your sun-block, as we expect the sun will shine on this important event. This is the third year the event has taken place, and in the past, over a ton of trash, ranging from old tires, toilets, boat cushions and plastic chairs, has been retrieved from the island's mangrove shoreline. This past year Hunter Parrish and a crew of friends brought back antique bottles that had been in the mangroves for decades.
The Sister Keys have to be seen up close to be appreciated. It's a study in the remarkable transformation that can take place when a bay island is given a chance to develop its natural resources. Just over three years ago, $1 million mitigation project was completed on the islands. All invasive species including Australian pines, and Brazilian peppers were removed, and a three quarter acre wet land was created. A great variety of native species were planted, including marsh grass, in this new area. Over the past three years, the native vegetation has grown in, and the wet lands have recruited mangroves, sea grass and attracted a myriad of minnows, fiddle crabs and wading birds.
This is only the third time (the mitigation is an ongoing five-year project) the Keys have been open to the public. It's a great opportunity for naturalists, birders, photographers, environmentalists and anyone who loves Sarasota Bay to see this restored natural habitat and participate in keeping it healthy. To top it off participants will be treated to lunch under the buttonwoods at one Sarasota Bay's most beautiful and unique locations, the Mar Vista Dockside restaurant. Don't miss the opportunity of a morning on Sarasota Bay and the Sister Keys. It's a great opportunity to meet new friends and share your love of this amazing natural environment . After lunch, you'll have an opportunity to learn about the important work Sarasota Bay Watch is doing to protect and restore Sarasota Bay's ecosystem through community education and citizen participation. A few of the projects that you'll learn about and have the opportunity to participate in include thae restoration of scallops in Sarasota Bay, a project to map and repair prop scars on local sea grass flats and addressing excess nitrogen in the Bay. Anyone wanting to participate in this win/win opportunity should contact Sarasota Bay Watch at 941-953-5333. www.sarasotabaywatch.org. Make sure to call and sign up by Friday morning so we can make sure you're on the list for lunch.