Thank you sports moms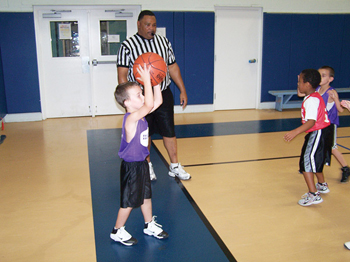 PHOTO/SCOTT DELL
Andrew Austin, of the Beach Bums team,
delivers the in-bounds pass.
In light of Mother's Day, take a few minutes to thank and appreciate the sports mom in your life. The nickname soccer mom has taken on an entirely new meaning over the years, especially on the Island. Children athletes are enjoying a variety of sports year round and staying healthier because of it. Behind the scenes though is mom running around all over town keeping everything together. Kids are so busy nowdays a mom could be juggling taking her child to sports games and practices, school, Boy or Girl Scouts, piano lessons, karate, a haircut, doctor or dentist appointments and dinner all in a week. Just being on a sports team can be a three- to four-day a week commitment but they gladly do it all for their kids. So here's to you, super sports moms, for all you've done for the sports fanatics in your house. They couldn't do it without you. You're the best.
To see or purchase more pictures of baseball, basketball or adult kickball go to www.amisun.com.
Adult co-ed kickball schedule:
May 12, Thursday, 6:30 p.m.
Ross Built Construction VS. Slim's Place
May 12, Thursday, 7:30 p.m.
Jessie's Island Store VS. Beach to Bay Construction
Adult co-ed kickball week #2 results:
Ross Built Construction - 6
Beach to Bay Construction – 7
Slim's Place – 1
Jessie's Island Store – 7
Baseball Schedule:
Tee Ball:
May 17, Tuesday, 6 p.m.
Gulf Bay Realty VS. Beach to Bay Construction
May 17, Tuesday, 7 p.m.
Air & Energy VS. Beach to Bay Construction
Pitching Machine:
May 16, Monday, 6:30 p.m.
Cedar's Tennis & Fitness Club VS. Island Real Estate
Basketball Schedule
Instructional League:
May 13, Friday, 6 p.m.
Coastal Orthopedics VS. Beach Bums
May 14, Saturday, 1 p.m.
West Coast Air Conditioning VS. Beach Bums
May 17, Tuesday, 6 p.m.
Coastal Orthopedics VS. West Coast Air Conditioning
Division III (8-9-year-old):
May 13, Friday, 7 p.m.
Agnelli Pool Service VS. Anna Maria Oyster Bar
May 14, Saturday, 12 noon
Agnelli Pool Service VS. Cortez Kat Charters
Division II (10-11-year-old):
May 11, Wednesday, 6 p.m.
Southern Greens VS. Connie's Landscaping
May 14, Saturday, 10 a.m.
Southern Greens VS. Ross Built Construction
May 16, Monday, 6 p.m.
Beach Bistro VS. Sandbar restaurant
Division I (12-13-year-old):
May 11, Wednesday, 7 p.m.
A Paradise Realty VS. Eat Here
May 14, Saturday, 11 a.m.
A Paradise Realty VS. Walter & Associates
May 16, Monday, 7 p.m.
Eat Here VS. A Paradise Realty
May 17, Tuesday, 7 p.m.
E Training Solutions VS. A Paradise Realty
Premier League (14-17 year old):
May 11, Wednesday, 8 p.m.
Dip's Ice Cream VS. Rotten Ralph's
May 16, Monday, 8 p.m.
LaPensee Plumbing VS. Rotten Ralph's
May 17, Tuesday, 8 p.m.
LaPensee Plumbing VS. Island Sun Newspaper