Bird, turtle tours begin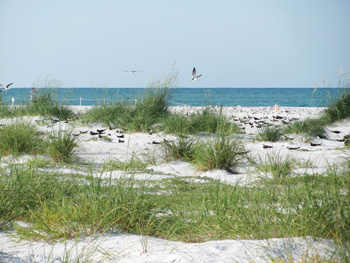 SUN PHOTO/CINDY LANE
Last year's black skimmer nesting area in Anna Maria
was alive with activity.
Birds and sea turtles are laying eggs on and in the sands of Anna Maria Island's beaches, and people are flocking to see them.
"People come up to us all the time and ask questions," said Glenn Wiseman, of Anna Maria Island Turtle Watch and Shore Bird Monitoring, which has begun offering both bird and sea turtle nesting tours.
The organization's volunteers stake off turtle nests and bird nesting areas to protect them and monitor hatching and survival rates.
This season's bird tours have begun, featuring nesting areas at a distance that does not disturb parents or chicks.
Turtle tours begin June 1, and allow spectators to get much closer to turtle nests, since mother turtles leave their nests unattended after laying them.
On Wednesdays at 7 a.m., Turtle Watch volunteers meet at the Café on the Beach at Manatee Public Beach and take people to see loggerhead sea turtle nests, he said. If a new nest has been found, visitors may be able to watch as they dig into the nest to verify that eggs were laid. Later in the season, they will be able to watch scheduled nest excavations to count the number of hatchlings that left the nest.
Recent visitors from the United Kingdom chose the Island for viewing wildlife after extensive world travel, Wiseman said, adding, "They said it's the best place to see dolphins, turtles and birds, so they keep coming back. Some people come here year after year, and bring their kids and grandkids."
Occasionally, a vacationer will call Turtle Watch and ask when bird nesting is expected to begin, and plan their vacation around it, Turtle Watch Director Suzi Fox said.
The third snowy plover nest and the fourth loggerhead sea turtle nest of the season were laid last week, she said, adding that three plover chicks already have hatched and are bouncing around the nesting area in Anna Maria.
Morning bird tours, which last about an hour and are offered by appointment, educate people about how their behavior affects birds.
For example, two of this year's plover nests have been destroyed by crows, which are attracted to the beach by garbage left behind by beachgoers, by nearby residential garbage cans that are left uncovered and by the food people feed to sea gulls, Fox said, adding, "People need to stop feeding birds on the beach. They will find their own food."
The crows perched on beach furniture that was left too close to the nesting area, she said, adding that furniture can block a nesting turtle's path and must be removed from the beach at sunset during sea turtle season, May 1 to Oct. 31.
A crow took an egg from a plover nest on a recent bird tour in Siesta Key, said Bonnie Samuelsen, of Sarasota Audubon, which also recently began conducting bird tours on Siesta Key and the southern part of Longboat Key.
"Sarasota County is doing a lot to encourage ecotourism," Samuelson said, adding, "People are really wowed when they see a baby snowy plover chick, or when they learn that some birds fly here from the Arctic."
"Florida is an ecotourism destination, but they're not marketing ecotourism as much in Manatee County" compared to some other counties, said Karen Fraley, of Around the Bend Nature Tours, which offers two- to two-and-a-half-hour tours for $120 for up to 10 people.
To avoid disturbing wildlife, people should take guided tours rather than go it alone, she said.
For more information on paid tours, contact Around the Bend at 941-794-8773.
For free tours, call Fox at 941-778-5638 or email amiturtlewatch@gmail.com. Leave a message including how many people are in the party and the preferred tour date. Donations are accepted.