Rum for Fathers' Day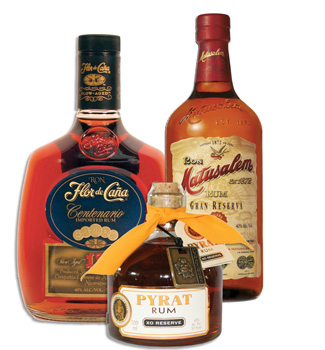 Try one of these rum selections to make
Father's Day special.
GRAPHIC PROVIDED
The political bosses of Chicago and the south side of Boston are legendary.
My dad ran the south end of Halifax, Nova Scotia. He did it with rum and cash and nylons.
Three months before election day dad got to appoint five ladies who were paid with government money to be the electoral officials in each four-block poll. The ladies were picked for their loyalty – and because they had a lot of relatives.
Dad picked a lady whose husband voted the way she told him too – and so did her parents and her two kids. For $300 for each electoral job Dad got the whole family - six votes a family.
Mrs Reilly always got the head enumerator job – $300, six votes. Mrs Kelly got the assistant enumerator job – $300, six more votes.
In the four-block ward dad got to pick a house where the voting was held. Three hundred dollars went to the owner, Mrs Sullivan – six more votes.
Each ward had a polling clerk, Mrs O'Flaherty, and an assistant polling clerk, Mrs O'Donell. They handed out the ballots and supervised the counting. Two jobs, $600 – 12 more votes.
Before anyone voted, dad was up 30 votes in every four-block poll. There were 50 polls in the ward – 1500 votes.
And then the fun started.
Every man that voted for dad's guy got a pint of rum, and every lady got a pair of nylons. By the age of eight I was down in the basement helping the boys filling up bags with rum and nylons.
On election day, the house was a circus of people, telephones and rum bottles. Taxis were parked all over the front lawn.
Each taxi driver was a captain of a team of ringers. Each ringer voted five times.
Remember Mrs Reilly that was the enumerator? She went door to door to poll the houses and find out who could vote and who had died. But in dad's south end, nobody ever died.
The ladies made sure that dead guys stayed on the electoral rolls and that dad had a list of all the dead guys.
The day before election day the taxi-driving captains each went out and got five ringers from the Catholic Shelter, promised them rum and cash and got them cleaned up to vote.
On election day the captain went into the voting station first.
He would identify himself as a dead guy and get a ballot from Mrs O'Flaherty. But he would pocket the ballot rather than drop into the box. He then went back to his cab, marked the ballot, gave it to one of the ringers and told him, "You are Joe Smith and you live on 21 Maple Street."
The ringer would go into the polling station, identify himself as Joe Smith to Mrs O'Flaherty, get a clean ballot and go to the booth where he then dropped in the pre-marked ballot. He pocketed the clean one and brought it out to the captain. The captain marked it and gave it to the next ringer.
I asked my dad, "How come you pre-mark the ballots?"
He replied matter-of-factly, "Well you know, you can't trust the ba****ds."
My old man ran the south end with rum. Get your old man a really great bottle for father's day. The best are Flora de Cana, Matusalem or Pyrat. They are sipping rums and are too noble for mixing.
If you have to mix, try an old Nova Scotian tradition – "neat and sweet." Add a pinch of sugar and a squeeze of lime and just sip.
Ask your dad to toast my old man.