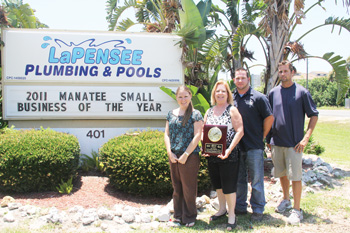 SUN PHOTO/MAGGIE FIELD
From left are Shawn LaPensee, Karen LaPensee,
Greg LaPensee and pools manager Tom Sanger. The
company won the Manatee County Chamber
of Commerce Small Business of the Year award.
HOLMES BEACH – LaPensee Plumbing & Pools is one of four winners of the Manatee Chamber of Commerce 2011 Manatee Small Business of the Year awards.
The Island business was honored last week as the winner in the category of small business with more than $2 million in annual sales.
"We never thought that we would win," said Karen LaPensee, company president and incoming chair of the Anna Maria Island Chamber of Commerce in November. "We're looking around the room and seeing all these great businesses and didn't think it would be us."
Family-owned LaPensee has operated on Anna Maria Island for 26 years, first as a home-based business in Anna Maria, then in three locations in Holmes Beach, including the current one at 401 Manatee Ave. W.
LaPensee's husband and co-founder, Mike LaPensee, retired last year, and their son, Greg LaPensee, is the new license holder, while daughter, Shawn LaPensee, is marketing director.
In addition to full service plumbing, LaPensee also offers pool maintenance, irrigation service, backflow prevention service, gas piping and 24-hour emergency service at 941-778-5622.
The company also has an interactive Living Showroom, allowing customers to try shower heads and faucets before they buy.
The award winners, who were required to be nominated, fill out applications and be interviewed, were chosen from 98 nominees, and received plaques and certificates.
Bradenton business United Systems Computer Group won in the category of $500,000 to $2 million in sales and Webtivity Design Solutions, of Bradenton, won in the category of less than $500,000, while Environmental BioTech International, of Bradenton, won the Industry Excellence of the Year award.