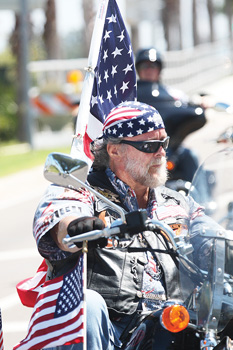 More than 1,100 bikers participate
in a September 11 Remembrance Ride
Sunday afternoon marking the
10-year anniversary of the terrorist attacks.
BRADENTON BEACH – The weather Sunday was perfect for a ride and between 1,000 and 2,000 motorcyclists did that to commemorate the terrorist attacks 10 years earlier and to celebrate the freedoms that we enjoy in this country.
The ride ended for many at the Bridge Street Bistro's Island Time Bar and Grill, where most enjoyed a $10 all-you-can-eat buffet lunch, except for men and women in the military, law enforcement or fire departments, who ate for free.
The large bar was packed with people, many of them wearing the red white and blue colors of the unique day as many recalled what had happened 10 years ago when terrorists hijacked three passenger planes and took down the World Trade Center towers in New York, crashed one into the Pentagon and another crashed as passengers fought the hijackers for control of the plane.
The phrase "We will never forget" was seen on T-shirts as many recalled how the mastermind of the attacks, Osama Bin Laden, was captured and killed earlier this year.
"At least we got him," said Steve Bonanno, organizer of the motorcycle run who was sitting with his daughter, Kara. "We said we would never forget and we meant it."
Bonanno was sitting with Christine and Hugh Holmes Jr., Island residents who ride motorcycles.
The wait staff at Island Time Bar and Grill all wore patriotic T-shirts and in a corner of the large outdoor bar, Lorrin Wagner was painting faces – an American flag on Will Gresham and a My Little Pony design on Claire Van Norwick, the three-year-old daughter of Angela and Craig Van Norwick. She sat patiently as the coloring was applied around her eyes and on her cheeks. Her mom was sporting a balloon hat made by Jeff Wagner, the husband of the face painter.
There was live music and raffles for prizes, including a vacation getaway on Anna Maria Island. Property owner Barbara Rodocker was there and she enjoyed the day.
"We're happy to see such a good turnout," she said. "This is a time to commemorate what went on and remember those who gave their lives."
Bonanno was also pleased with the crowd.
"I knew they would turn out for this," he said. "It took a lot of work to get it organized, but they all wanted to show how they feel."
Police estimated up top 2,000 riders went through Bradenton Beach Sunday. There were no incidents as everyone was united in making this a peaceful demonstration against those behind the attacks.