Twilight to twinkle at holiday boat parade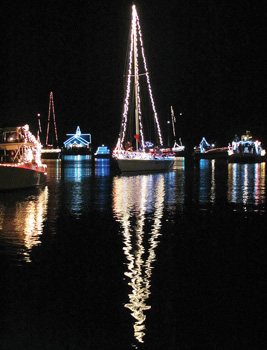 Boats in last year's Holiday Lighted Boat
Parade reflect on a calm Intracoastal
Waterway.
SUN FILE PHOTO
The Eighth Annual Holiday Lighted Boat Parade will delight spectators as boats decorated for the holidays cruise the Intracoastal Waterway on Saturday, Dec. 17.
The parade begins at dusk at the docks at Mar Vista and Moore's restaurants on Longboat Key, and will travel north along the Intracoastal Waterway to the Seafood Shack restaurant in Cortez, where an awards celebration will be held.
Boat owners will compete for $1,000 in prizes, including a $500 grand prize for the best decorated boat.
Spectators can enjoy the parade from the Seafood Shack, the Cortez Bridge, the Bridge Street Pier, street ends in Bradenton Beach along the Intracoastal Waterway, Coquina Bayside Park, the Longboat Pass Bridge and Mar Vista and Moore's.
The parade is held in conjunction with the Bridge Street Merchants' Christmas on Bridge Street in Bradenton Beach.
All boats are welcome and no entry fee is required. A toy donation for Toys for Tots is requested. To register, call 780-3547.
The event is organized by the Cortez Yacht Club and sponsored by The Anna Maria Island Sun and the Bridge Street Merchants Association.