The monster bones of Aitutaki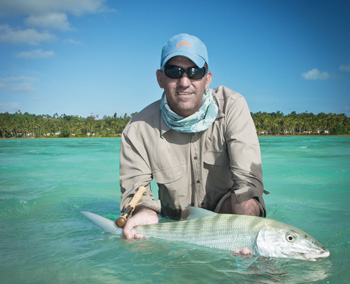 PHOTO/RUSRY CHINNIS
Ian Dollery, head of the Aitutaki Bonefish Management
Committee, prepares to release an 11-pound bonefish
he caught on the Aitutaki flats.
Ian Dollery, director of the Aitutaki Bonefish Management Committee, told us to bring heavy fly tackle that could handle the large bonefish that swam this Cook Island atoll. My three choices were a nine weight, a 10 weight and an 11 weight. It didn't take long for me to find out that even with this tackle I could be defeated by some of the monster bones of Aitutaki. The recommendations were spot on, but there were times when the use of a floating line and bead chain flies was required. The high winds we experienced and the deeper water where the big bones often lurk required us to get our flies down quick much of the time. Most of the effective flies were variations of Clousers and the McVey Gotcha with large and medium weight lead eyes. Even with the high winds, there were times when a floating line and flies with bead chain eyes were more effective. The lee of some of the atoll's islands like Akaima and Long Island provided slick calm water where the big cruising bones could be very selective. The big bonefish of Aitutaki are all very smart and require long accurate casts and long leads. Itu, who occasionally has days with up to 15 fish, coaches his anglers to leads up to 12 feet. He then has them strip the fly until the bonefish spots it. It takes a lot of patience and faith to leave a fly perfectly still waiting for a bonefish to tail on the fly. The only time the fly is moved is when a fish looses interest and starts to move away. A short, smooth strip will often get the angler the second chance that's needed.
On one of the many windy and cloudy days, I fished with Butch Leone, an American who has been fishing the big bones of Aitutaki for over 18 years. Leone was one of the early champions of controlling netting and showing the locals the possibility of a sustainable guide fishery. We were plagued with clouds and high winds, but despite the conditions, we persisted, working our way up the lagoon. As we waded the shallows during the beginning of a falling tide, we both commented on the warm water flowing across the flat. We also started to see bonefish working up on the white sand adjacent to a deep, blue water edge. It was one of those frustrating days when just as a bonefish would come into view, a cloud would obscure the flat, and as it passed, so did the bonefish. Finally, as the sun made its way from one bank of clouds to another, two large bonefish, both easily double digit fish, swam into view. I made a cast, and just as I started a strip to attract them, another cloud obscured my view. With no other options, I continued a smooth strip, with an occasional staccato variation when my line came tight. With an instinctive strip strike, I found myself fast to a silver missile that stripped line from my reel faster than any other fish I've ever hooked. The bonefish took me an honest 100 yards into my backing so fast I could only watch in awe. Unfortunately, this fish also had a Ph.D and had headed for one of two coral heads within sight. My second double digit fish of the trip ended just as my first had. Fortunately, this time I did retrieve my fly line and backing sans some leader and a fly.
Aitutaki and the Cook Islands Ministry of Marine Resources is focused on developing a guided fly fishing industry for bonefish. It is hoped that through the shift from netting to sport fishing the people of these islands can assure that this incredible resource continues to sustain the people of the atoll, as it has for generations, while providing some world class bone fishing for anglers. Hopefully, the people of Aitutaki will be able to fully realize the potential of their fabulous bone fishing. While this destination will always be a quality over quantity destination, it's a place where the possibility of a world record bonefish lurks on the edge of every flat and where a fisherman and his family can find a true paradise. We were captivated by Aitutaki, its huge bonefish and the amazing scenery, but it was the people and their eagerness to learn, as well as their warmth and hospitality, that will be most prominent in our memories.
For accommodations contact
Popoara Ocean Breeze Villas
fishing@aitutaki.net.ck
www.popoara.com
Guiding:
Itu Davey: e2davey@aitutaki.net.ck
Web Site: www.e2sway.com
Butch Leone: flyfish@aitutaki.net.ck
Web Site: http://www.aitutakibluelagoonflyfish.com/