Island adult sports explosion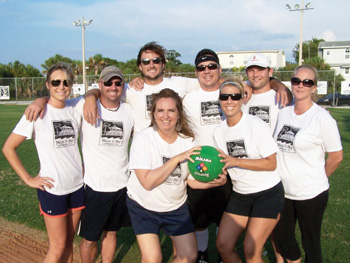 PHOTO/SCOTT DELL
Beach to Bay Construction adult kickball team.
The adult sports programs at the Anna Maria Island Community Center have seen a dramatic increase in popularity. Exactly two years ago, the Center started an adult co-ed sports department. Since that revitalization of Island adult athletics, the Center has formed 56 different teams and had 514 adult participants.
The balanced recreational concept of intermixing males and females has played into its success. The combination of the play emphasizing good sportsmanship, being somewhat competitive and fun for all has stayed true. The philosophy of the leagues participants that "we all have to get up and go to work in the morning so let's just have fun," seems to be working.
The popularity of the leagues has exploded recently. The current adult soccer season has nine teams in it, but could have easily formed to 11 teams. The league only plays on Thursday nights, so the Center can only schedule four games, leaving some late registrations on a waiting list and without a team. Registration for the upcoming winter flag football league sold out at 72 registrations, nine teams a month before tryouts were to begin. Currently, there are 18 people on that waiting list that might not be able to play.
This is leaving the Center with a dilemma on how to accommodate the mass number of adults that want to participate in these quality sports programs. Debate is going on whether or not to add on an additional night of adult play without interfering on the nights the youth leagues need to play.
Center Athletic Director Troy Shonk stated, "It's a great problem to have, and we will do everything we can to accommodate the interest."
The Center added Tuesday nights for adult sports already. In the spring it added Tuesday night kickball, in the fall it was basketball and in the upcoming winter it will be volleyball.
This adult sports explosion is just one more way that makes this unique Island such a great place to live. Among these active adults with common interests, these sports programs have become a great socialization catalyst.
For many, it has been almost like a Center alumni reunion. Past fiends that grew up playing sports at the Center are now finding themselves active again on the fields they frequented as a child. Old names from the hallowed Center's halls of youth MVPs are once again reliving the glory days.