Brian Seymour takes over general store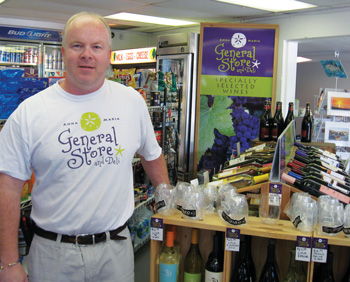 Brian Seymour took over ownership of the Anna Maria General Store and Deli on Pine Avenue on July 1. He has managed the store for Lizzie Vann Thrasher and Mike Thrasher since February 2010 with the understanding that he would eventually purchase it.
"I have grown the business tremendously over the past two and a half years," Seymour pointed out. "I will continue to seek the advice of customers and add new items to improve upon the service.
"The transition has been very easy. Our tremendous staff is friendly and will remain the same. It shouldn't impact the customers at all."
The store features salads and sandwiches made to order; Italian specialties and salads supplied by Vinny Esposito, of Vinny and Cheryl's Italian Kitchen, and desserts made by Cindy, of Hometown Desserts.
In addition, you get Starbucks Coffee, a wide selection of beer and wine, health and beauty products, cleaning and pet supplies, outdoor necessities, snacks and convenience food and drink items.
PAT COPELAND | SUN
Brian Seymour with some of the wine selections offered
at the Anna Maria General Store and Deli on Pine Avenue.