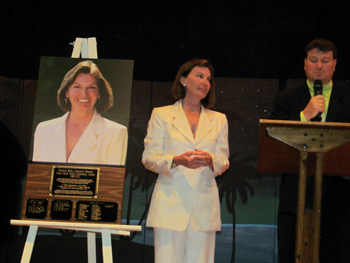 Community Center Director Pierrette Kelly with Assistant
Director Scott Dell next to the portrait the board presented to her.
ANNA MARIA – The Anna Maria Island Community Center opened its doors for a goodbye party for its director of more than 20 years, Pierrette Kelly, last week. There were laughs and there were tears.
There was food donated by local restaurants and refreshments and lots of networking as long-time friends of the beloved Community Center director regaled others with stories of the past.
Kelly, in a white suit, was there laughing and enjoying the company of those she rarely saw, as well as those who have been close to her during her tenure. After more than an hour of mingling, Community Center Assistant Director Scott Dell took to the stage to start the tributes and remembrances. He introduced Community Center Board Chair Greg Ross.
Ross joked about learning from Fire Chief Andy Price that Price was resigning as the chair.
"He asked me if I wanted the position, and I asked how much time it would take every week," Ross said. "He said a couple of hours a month."
The board members laughed, but Ross then praised Kelly for her leadership.
"She's like that tennis player Roger Federer who makes it look so easy," Ross said. "Pierette makes it look easy and that's what we appreciate about her."
Price praised Kelly as the woman who got so much out of the board and volunteers.
"It was that smile of hers," Price said, "The board did all those things and she was the reason."
Price turned to Kelly and told her he would not have been on the board if not for her.
Trudy Moon, planner of most of the Affaires to Remember, the Center's signature fund raiser auction and party, said she got involved when she complained.
"I told her the bathroom needed help, and she told me they had a process around here," Moon said. "She said when somebody complains, someone has to volunteer to change things."
Moon said Kelly got her to volunteer to organize the fundraiser, known as the auction in its early days, and the rest was history.
"You taught me to be a better person and how to be a volunteer," Moon said to Kelly. "Nobody can top this lady."
CrossPointe Fellowship Pastor Ed Moss spoke about Kelly's character.
"We teach character and that is Pierette," he said.
Dell took the stage to talk about the lady with whom he worked for so many years.
"I spent so much time with you, and I'm going to miss you," he said, pointing to Kelly. "My adult life has been here with you. Thank you for so many dreams and aspirations that came true."
He spoke of her kind heart.
"She made sure that no kid would get turned away from one of our programs for lack of money," he said. "She adopted a one-parent family where the mom might have a boyfriend for a while, but then he would leave. Those kids had to sleep on the floor, but she made sure they made it through college."
Then it was time for Kelly to speak.
"Each and every one of you played an important part of this," she said. "Please, never dishonor the Community Center. It needs you."
Kelly said she got interested in the Center after her husband, Paul, started playing tennis there. He told her about the opening for a director and she applied because he thought she could do some good. She joked about her inauspicious beginning.
"I really didn't want this job," she said. "I did it for Paul."
During the speeches, several speakers broke down. Dell had to stop his speech, telling everyone, "I can't finish this."
Kelly left her mark on the Island's culture of caring and giving and she made sure the Community Center was there to fulfill its mission of adding to the community. The tears at her farewell party were evidence of that.