Fast paced win for Beach Bistro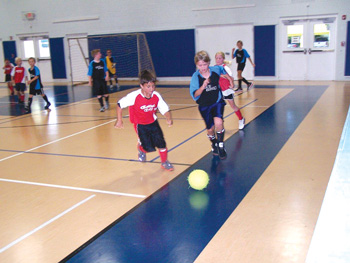 SCOTT DELL | SUN
Andrew Burgess, of Beach Bistro, and Tuna McCracken,
of Gettel Toyota, race to the ball in 8-10 year old
AMICC indoor soccer action.
The Sun sports game of the week was an 8- to 10-year-old indoor soccer match between the Beach Bistro and Gettel Toyota. The Community Center gym is a great place to escape the heat and catch some hot, fast-paced play. This is exactly how these two teams played. The first half of play was dominated by great defensive play. The goalies, Tuna McCracken and Andrew Burgess, at both ends of the court were making brilliant saves. The Beach Bistro defenders Chase Archer, Lalita Garofalo and Lila Naeher were making it tough for their opponent's offensive. The Gettel Toyota defenders Rain Cooper and David Daigle were hustling to defend their end and stop any opposition. Sam Bowers finally broke the scoreless game at the 11-minute mark when his shot deflected off a Bistro defender and went in, 1-0 Gettel.Julius Petereit got the fast paced Beach Bistro offense going, when with five minutes left, he blasted a hard shot to the lower left corner, score 1-1. Fifty seconds later Jayse Berzowski had a similar kick to the right corner for the goal, 2-1 Bistro. One minute later, Berzowski picked up a loose ball off the wall and scored a break-a-way goal. Within two minutes, the Bistro team took a 3-1 lead into halftime.
Thirty seconds into the start of the second half, Lilah Bowers got Gettel to within a goal when she took a pass off the wall and scored, 3-2 Bistro. Forty seconds later, the Beach Bistro flattened the tire of any type of Gettel Toyota come-back when Berzowski had a sweet assist to Petereit in the middle and he shot lower right for the goal, 4-2. After a handball in the box, Berzowski scored upper right on the penalty kick, 5-2. Two minutes later, Petereit picked up his third goal off a goalie deflection, 6-2. Berzowski soon after picked up his fourth goal of the night on some talented dribbling through the middle defenders and scored, 7-2. With eight minutes to go, Andrew Burgess scored on a three-line free kick that went off the goalie and in, 8-2 Bistro. Ava Zink carried the ball up the floor and off the wall before getting one-on-one with the goalie and finished it with a nice goal for Gettel with four minutes left. The final score was 8-3 with the Beach Bistro on top but the game proved to be fast paced and exciting from start to finish.
Youth Indoor Soccer
5-7-year-old results
Bowes Imaging Center 12
Southern Greens 6
Alessandro Rincon scored nine goals, and Aliva Enzo chipped in with two goals for the Bowes Imaging Center win. Alanna Belfiore scored two goals, and Katie Burgess, Casper Curry and Samual Meddick each scored one goal for the Southern Greens team.
8-10-year-old results
Beach Bistro 7
Beach Bums 7
Jayse Berzowski scored three goals, and Thomas Fellows and Julius Petereit each scored two goals for the Beach Bistro tie. Ozzie Lonzo scored four goals, and Avila Didier, Ryan Joseph and Luke Marvin each scored one goal for the Beach Bums tie.
11-13-year-old results
Eat Here 5
Air & Energy 3
Brooke Capparelli and Dylan Joseph each scored two goals, and Nika Ukhurgunasvili scored one goal in the Eat Here victory. Stephen Whyte scored two goals, and Daniel Fritz scored one goal for Air & Energy.
Waterfront restaurant 6
Air & Energy 4
Ryan Fellows and Robbie Fellows each scored two goals, and Morgan Burns and Brooke McIntosh each scored one goal for the Waterfront restaurant team win. James Whyte scored two goals, and Stephen Whyte and Nicole Sewall each scored one goal for Air & Energy.
Adult Co-Ed Flag Football results
Agnelli Pools & Spa Dolphins 33
Miller Electric Chargers 20
Quarterback Tim Shaughnessy threw for 179 and four TDs. Pat Calvary had 44 yards receiving, seven yards rushing and scored two TDs in the Dolphins win. Quarterback Chuck Bucky threw for 155 yards and two TDs. Chuck McCracken had 20 yards receiving, one TD and two flag pulls for the Chargers.
Sato Real Estate Browns 33
Beach to Bay Construction Saints 32
Quarterback Jason Sato threw for 149 yards and two touchdowns. Brent Laudicina had 50 yards receiving and a TD, 20 yards rushing and a TD, an extra point, two flag pulls and two interceptions in the Browns win. Quarterback Larry Berkery threw for 126 yards and a TD. Quarterback Don Purvis threw for 29 yards and two TDs. Jason Mickan had 130 yards receiving and two TDs and an extra point and also 22 yards rushing and a TD for the Saints.
Jessie's Island Store Jets 47
Slim's Place Titans 27
Quarterback Matt Piermarini threw for 296 yards and seven TDs. Ian Fetters had 86 yards receiving with three TDs and four extra points in the Jets win. Quarterback Tyler Bekkerus threw for 229 yards and three TDs. Ryan Hogan had 158 yards receiving with a TD and an extra point and an interception for the Titans.
Duffy's Tavern Raiders 35
Tyler's Ice Cream Vikings 7
Quarterback Chris Gillum threw for 258 yards and five TDs. Mike Gillum had 123 yards receiving with two TDs and an extra point. Tyler Redmand had three flag pulls and four interceptions in the Raiders win. Quarterback Ryan Moss threw for 104 yards and a TD. Jonathan Moss had 94 yards receiving with a TD and an extra point and three flag pulls and an interception for the Vikings.
Adult Co-Ed Volleyball League results (Best of three games)
Best Buy 25
The Feast restaurant Game 1 22
Best Buy 25
The Feast restaurant Game 2 16
Lobstahs restaurant 25
Florida Discount Signs Game 1 13
Lobstahs restaurant25
Florida Discount Signs Game 2 18
Lobstahs restaurant 25
Florida Discount Signs Game 1 16
Lobstahs restaurant25
Florida Discount Signs Game 2 11