BeachHouse a mini-vacation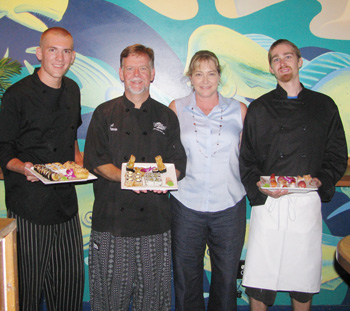 Louise Bolger | sun
From left, Tyler Kissel, Chef Will Manson, Becky Shannon
and Sean Shannon serve up "Sushi and Sunsets"
at the BeachHouse in Bradenton Beach.
People fly thousands of miles to exotic locations just so they can sit on the beach, sip a pina colada and watch a perfect sunset. Wouldn't it be great if you could avoid all of the expense and inconvenience and still get to see the perfect sunset? Well, you can, and for many of us, it's right in our backyard at the grand lady of Bradenton Beach.
The BeachHouse Restaurant has been perched at the edge of the blue green waters of the Gulf of Mexico since 1993 overlooking 650 feet of beautiful Gulf beaches. Becky Shannon, the general manager since 1996, and Will Manson, the BeachHouse's chef for the past 11 years, have made it their mission to maintain the iconic restaurant's beach vibe and great food.
Menu selections at the BeachHouse are incredibly extensive ranging from one of their most popular items, coconut shrimp or calamari appetizers, to stuffed tilapia or filet mignon for dinner. There are a variety of lunch sandwiches including their beach burger or mahi sandwich and, of course, soups and tempting desserts.
The BeachHouse also has an early bird value menu with $9.99 fish tacos and $7.99 beach burgers among many other choices. Combine this with their "Toes In The Sand" happy hour featuring $2 drafts and $4 margaritas or pina coladas or one of their appetizer specials for an affordable and tasty dinner.
The most recent and very exciting addition to the BeachHouse food family is sushi. Suggested by one of the restaurant's chefs, Sean Shannon, and encouraged by staff and customers their Sushi and Sunsets program has taken off and is now a permanent addition to the menu. Tyler Kissel and Sean Shannon are the sushi chefs who fill made-to-order requests and authentically hand roll all dishes using sushi grade yellow fin turn among other fresh ingredients. Some of the menu choices include makimono, nigini, sashimi as well as wakami, ginger and edamame salads. Becky Shannon points out that not only is sushi colorful, healthy and offers a nice variety, it's also just the right thing for a beach dining experience.
Except for special events, there is entertainment every night. The summer features Tropical Tuesdays with steel band music and don't forget the nightly sunset contest where you can win a bottle of champagne for guessing the exact time of sunset.
Beach weddings have become one of the BeachHouse's signature events with multiple weddings during the course of a week. The restaurant boasts two covered pavilions that can accommodate parties and weddings from 20 to 200 people.
Chef Manson creates daily specials frequently based on local fish caught and delivered daily. He hand cuts all of the restaurant's meat and fish and purchases in season local and sustainable products. Somehow the award winning chef still finds time to appear on ABC 7 News for a weekly cooking demonstration.
Becky Shannon emphasizes that the BeachHouse Restaurant is your neighborhood beach house designed for everyone to come in and have a great time while enjoying creative and affordable food and one of the most fabulous views on the entire west coast of Florida. She is thankful for a wonderful staff who provide great service in a very caring manner.
Both visitors and locals have been coming to the BeachHouse for years because of its stunning location, casual beach atmosphere and fresh affordable food. It offers something for everyone from sushi at sunset to magical beach weddings. And for those of us who are lucky enough to live the dream all year 'round, all you have to do is cross the bridge for your mini exotic vacation and glorious rainbow sunset.
BeachHouse Restaurant
200 Gulf Drive N.
Bradenton Beach
941-779-2222
www.groupersandwich.com
Every day
11:30 a.m. to 10 p.m. Early Bird:
Mon. – Fri., 3 to6 p.m.
Happy Hour: Mon. – Fri., 3 to 6 p.m.
All major credit cards accepted