Four stragglers saved from turtle nest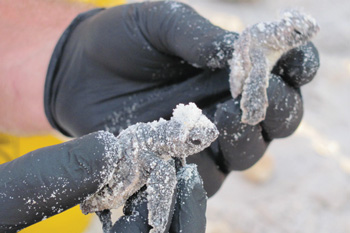 Four loggerhead sea turtles trapped in a nest that had hatched three days earlier were excavated and set free by Anna Maria Island Turtle Watch volunteers Glenn and Claudia Wiseman earlier this month at Tiffany Place in Holmes Beach. A crowd watched as they pulled the stragglers out of the nest, which is not an uncommon occurrence. After several luminaries released over the water by nearby beachgoers had disappeared and the coast was clear, they let the hatchlings scramble for the Gulf.
CINDY LANE | SUN
Two of the four loggerhead sea turtle hatchlings
that were set free from a nest that hatched three days earlier.