Four Island retailers honored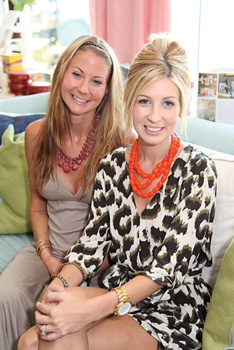 Tom Vaught | sun
Store manager Jessica Foraker with
owner Janae Rudacille at Pink and Navy.
Four retailers on Anna Maria Island have made an impressive list for their styles and products in very different areas.
Sarasota Magazine released its Best of Sarasota Top 100 Luxury Retailers list for 2012 recently. Author Carol Tisch chose clothiers Irene's Resort Wear and Pink & Navy, and home interior design specialists Bella by the Sea and the White Egret for the list.
Tisch called Irene's Resort Wear, 5308 Marina Drive, Holmes Beach, "an oasis of big-city style on laid back Anna Maria Island." She said the store might be the "most competitively priced fashion house in the region." She said the store's diverse clientele come for "impeccable service and a cutting-edge cache of dresses."
"My staff and I are very proud, honored an humbled at the same time," said owner Nannette Almeter, who added this is the third year in a row for her store in the annual listing.
The next two retailers are located on Pine Avenue, in Anna Maria.
Tisch praised Pink & Navy, 216C Pine Ave., for its young styles.
"Rivaling the beach boutiques lining the harbor of St. Bart's, Pink & Navy is a fashion oasis on Anna Maria Island," she wrote.
Pink & Navy owner Janae Rudacille said it was an awesome honor and she was totally blown away, especially in light of the fact that she has been in business less than two years.
"I'm shocked at how well we are doing," she said." I wasn't sure it would be accepted."
Rudacille said she gets asked almost every day if this is part of a chain because they want to shop in a Pink & Navy in their hometowns. She said she is getting customers from Tampa and Sarasota on a frequent basis.
Tisch praised the diversity of the items for sale at Bella by the Sea, 218C Pine Ave.
"Retail therapy is epitomized in this inimitable emporium," she wrote. Praising their "irresistible blend of repurposed furniture (from old factories, barns and commercial buildings), coastal lifestyle clothes, irresistible handbags crystallized with zip codes and fun jewelry."
Owner Jo-Ann Lefner said she was thrilled by the honor.
"I am totally blown away, especially since we've been open less than two years," she said.
Referring to Tisch's description of the variety of items in her store, she said people are starting to notice the variety of items available from all the stores in Anna Maria's retail district.
"It's certainly a brand for Pine Avenue," she said.
Like Irene's Resort Wear, the White Egret has been named in the luxury retailer list three years in a row.
Tisch wrote "Coastal elegance reigns at the White Egret." She praised the luxury brands available and the wide variety of items to make a beach house feel that way. She mentioned their sister store next door, Egret's Nest, and Egret's Landing in Holmes Beach for furnishings.
"This is a dream come true," said manager Sue Hallenbeck. "You work so hard to get noticed and this is proof you have been."
She said they are always buying for an upcoming season and they have a lot of customers who come back to see what's new.
"They say it just gets better and better," Hallenbeck said.
According to the list, the only other store from Manatee County honored is located in Lakewood Ranch.