Waving so long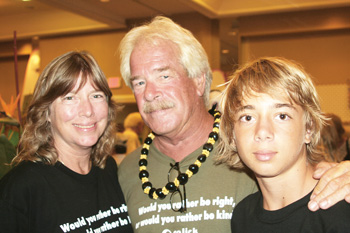 Anna Maria Island resident Joan Mills,
Phil Salick and Joan's son, Brandon Mills
(sister, twin and nephew of Rich Salick).

CINDY LANE | SUN
COCOA BEACH – Hundreds of surfers paddled out in the Atlantic Ocean at the Cocoa Beach Pier on Labor Day weekend in memory of former Anna Maria Island resident Rich Salick, who passed away in July at age 62.
The tribute was the highlight of the 27th Annual NKF Rich Salick Surf Festival, held Aug. 30 to Sept. 3 at the pier.
The event, founded by Rich and his twin, Phil Salick, was renamed this year to honor Rich's legacy to the National Kidney Foundation of Florida, where he served as community relations director.
The city of Cocoa Beach changed the name of Meade Street at the Cocoa Beach Pier to Richard Salick Way for the event.
The charity event has raised more than $5 million for the National Kidney Foundation since it began.
Salick's mission was to help people with kidney disease.
He was stricken at 23, after he had qualified for the world championships as a member of the World Surfing Team in 1973.
Phil donated one of his kidneys, enabling Rich to become the first athlete ever to return to his sport at the professional level after a kidney transplant. The twins are members of the Surfing Hall of Fame.
Salick, who died during emergency surgery, also battled cancer and heart disease, and had two subsequent kidney transplants, from his older brother, Channing Salick, and his younger brother, Wilson Shymanski, of Holmes Beach.
Shymanski, who had managed Salick Surfboards' Third Street North location in Cocoa Beach, died at age 52 in May. He held the title, The Mayor of Coconuts, given to him by the Cocoa Beach crew that frequented the famous stretch of beach.
The Salick twins founded the National Kidney Foundation Pro-Am Surfing Festival 27 years ago to raise funds for dialysis patients in Cocoa Beach.
The Florida Team Invitational between Salick Surfboards, where Rich built surfing legend Kelly Slater's first surfboard for the 8-year-old, and the competing Ocean Avenue Shop grew into the Salick Surf Festival, which drew thousands to Cocoa Beach to watch pros and amateurs compete.