Soccer season starts Sept. 19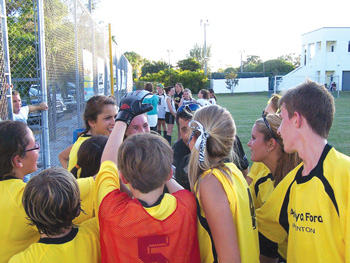 File photo
The 2011 AutoWay Ford team huddles before
taking the field last year.
School is back in session, summer is winding down, and one of the most anticipated sports seasons of the year is back. Soccer has a long and historic tradition on the Island. For the Anna Maria Island Community Center, soccer is one of the largest sports leagues it offers.
The soccer season has a way of bringing families together in a fun wholesome social environment. Kids, siblings, parents and grandparents will all come together on the fields to cheer friends and family on after a long hot summer mostly apart.
Male and female players age 4 to over 60 will find their way to the pitch. Currently, the Center has drafted 26 co-ed teams and will have its final draft for the 14-17-year-old league on Tuesday, Sept. 4. Two volunteer coaches are running each team and are the cornerstone and strength of the program. These caring individuals are giving their time and talent to make a positive difference in this community.
During the tryouts, it was encouraging to see all the young talent. There has been a great soccer buzz about the fields and in summer indoor soccer since the U.S.A Women's Team brought home gold from the Summer Olympics, especially among the young female athletes. The Island has been a breeding ground for young soccer talent over the years. Most notable as of late is Joey Hutchinson, who went to college on a Division I soccer scholarship this year.
Who will be the next young star to shine bright under the Island lights? Wait no longer for this season starts now. Practices begin this week, and the season officially starts on Wednesday, Sept. 19, for the kids with the kick of the season banquet and uniform handout.
Spirit week exhibition games begin on Friday, Sept. 21 and carry through Saturday the 22nd. Players and families are encouraged to dress in their team's colors and show their team spirit. The more creative, the greater amount of points the team will receive during this fun and exciting two day event.
The adult league begins on Thursday, Sept. 13, with their its regular season game.
Adult co-ed Soccer schedule:
Sept. 13, Thursday, 6 p.m.,
Sato Real Estate vs. Wash Family Construction
Sept. 13, Thursday, 7 p.m.,
Moss & Bernard Construction vs. Florida Discount Signs
Sept. 13, Thursday, 8 p.m.,
Pink & Navy Boutique vs. Island Pest Control
Sept. 13, Thursday, 9 p.m.,
Jessie's Island Store vs. Slim's Place
,,,,,,,,,,,,,