Go native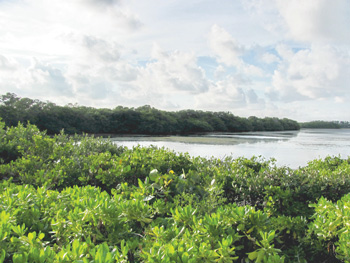 Protected mangroves prevent the coastline from
eroding and provide a nursery for marine life.
They may not be as flashy as a bird of paradise, but the native plants you see near the shoreline on your beach walks literally – and littorraly – help hold Anna Maria Island together.
Beach sand shifts due to wind, tides and alongshore currents, making one beach larger one day and another beach smaller another day.
Sea oats, sea grapes and mangroves build and enlarge sand dune systems, protecting the things we boldly build so near the capricious coast.
And as a bonus, these native beach plants don't require fertilizer or pesticides, which damage marine ecosystems when they drain into the Gulf of Mexico and the Intracoastal Waterway. They also don't require watering, which saves water in a state with frequent droughts.
Sea oats
Sea oats build sand dunes by trapping and holding windblown sand, stabilizing it to keep it from being blown away by the wind or washed away by the waves.
Sand dunes are vital to slow down beach erosion and rebuild already eroded beaches, like those on southern Anna Maria Island that were gnawed at by Tropical Storm Debby in June 2012. Dunes also shield buildings from flooding and provide wildlife habitat for protected sea turtles, gopher tortoises, birds and other wildlife.
Birds eat the fruit of sea oats, which looks a little like wheat, so leave the stalks in place – not in a vase – and you may be lucky enough to see a flock of birds bouncing on sea oat stalks and tasting their treats.
Sea grapes
Sea grapes also trap sand and build dunes, and provide food for birds and land animals when their grape-like clusters ripen. Birds, squirrels, raccoons and opossums make their homes in sea grape branches on the Island.
Sea grapes also shield beaches from light that lures nesting and hatching sea turtles away from the safety of the water and into danger.
Mangroves
Mangroves, which are mostly on the bay side of the Island, come in red, black and white varieties and can live partly on land and partly in water because they are salt tolerant. Some varieties block salt at their roots, while others secrete salt through their leaves.
Mangroves help build the coastline with their tangled root networks, which provide a haven for juvenile fish, crabs and shellfish. Bird colonies often nest in mangrove branches; you can see such a bird island off Cortez in Sarasota Bay.
Mangroves also help filter pollution from coastal waters and reduce the effect of storm surges and high winds on property.
You can see why all these native plants are protected by federal, state and local laws, which carry fines for improperly trimming or destroying them.
To protect our fragile beach plants and dune systems, do not sit or walk on sand dunes or on the ledges of already-eroded dunes, don't plant umbrellas or chairs on them, and keep children from digging in them – there's plenty of other sand on the flat beach to enjoy.
And instead of plant souvenirs, take home pleasant memories of the Island's native beach flora.