Center hosts Anna Maria Island Sports Awards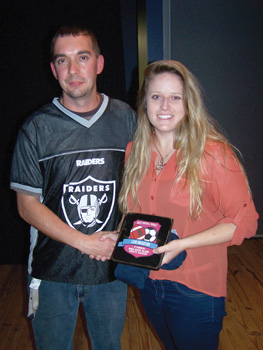 scott dell | submitted
Athletic Director Troy Shonk congratulates Overall
Female Athlete of the Year Lexi Braxton.
The Anna Maria Island Community Center hosted the first Anna Maria Island Sports Awards night on Saturday. The event was the Center's version of ESPN's E.S.P.Y Awards. The awards were designed to honor the male and female ddult athletes who participate at the Center.
A host committee planned hard and laid the foundation for a fun new tradition for the annual event. Members of the host committee were Island D.J. Chris Grumley, Chrissy & Chuck McCracken, Matt Ray, Troy Shonk, Nate and Amy Talucci, Dawn Wash and Lindsey Weaver.
The event was a big hit and helped raise money for the sports scholarship fund at the Center. Lee Roy Selmon's catered the food for the event, and Wash Family Construction and Slim's Place sponsored the bar. Specific awards were sponsored by Emerson's Studio/Store and Miller Electric to honor athletes. Nate and Amy Talucci and Don Meilner & Son Construction personally made every wooden award that was given out. To determine the winners, nominees were voted on by the people who attend the event.
The 2012 awards go to:
Ace (Best Serve) Volleyball – Mackenzie Kosfeld
Dirty Digs Volleyball – Mark Pennell
Most Sponsorships – Tyler's Ice Cream
Best Cheerleader – Erin Heckler
Sharp Shooter Basketball – Matt Ray
Lunch Bucket (All-around basketball player) – Chuck McCracken
Not In My House (Soccer defender) – Scott Rudacille
Golden Boot (Soccer offense) – Aaron Parkin
Batman & Robin (Dynamic Duo) – Jonathan & Ryan Moss
Mr. Touchdown – Eric Gledhill
Shutdown Defender (football) – Pat Calvary
Mr. Hustle – Jesse Brisson
Bonnie & Clyde (husband and wife combo) – Nate and Amy Talucci
Best Team (of all the championship teams) – Duffy's Tavern Raiders (football)
Captain Morgan (team captains) – Nate Talucci
Rookie of the Year – Chris Gillum
Lucky Charm (always seems to be on the championship team) – Amy Talucci
Biggest Upset of the Year - #8 seed Island Pest Control defeated undefeated team in soccer
Lifetime Achievement – Lyn Clarke (Forever Young)
Most Championships by an Athlete – Rich Bell
Basketball Sportsmanship – Brandon Kern
Football Sportsmanship – Chrissy McCracken
Soccer Sportsmanship – Ed Moss
Volleyball Sportsmanship – Laura Alderson
Wash Family Construction Female Soccer MVP – Lindsey Weaver
Emerson's Studio Volleyball female MVP – MacKenzie Kosfeld
Wash Family Construction Basketball Female MVP – Serena Samuels
Don Meilner & Son Construction Football Female MVP – Dina DeJesus
Wash Family Construction Male Soccer MVP – Josh Sato
Emerson's Studio Volleyball Male MVP – Mike Rigo
Miller Electric Male Basketball MVP – Antwuan Jackson
Don Meilner & Son Construction Male Football MVP – Eric Gledhill
Breakthrough Athlete – Matt Ray
Overall Female Athlete of the Year – Lexi Braxton
Overall Male Athlete of the Year – Jonathan Moss

Adult co-ed Flag Football Results
Southern Greens Seahawks 42
BY Construction Bears 31
Lobstahs Lions 40
Tyler's Ice Cream Vikings 34
Beach to Bay Construction Ravens 27
Agnelli Pools & Spa Giants 21
The Island Sun Bills 40
Slim's Place Patriots 26
Duffy's Tavern Raiders 54
Harrington House Bucs 24
Florida Discount Signs Colts 27
Duncan Real Estate Cardinals 20
Adult co-ed Flag Football Schedule
Jan. 30, Wednesday, 7 p.m., Florida Discount Signs Colts vs. BY Construction Bears
Jan. 30, Wednesday, 8 p.m., Southern Greens Seahawks vs. Agnelli Pools & Spa Giants
Jan. 30, Wednesday, 9 p.m., Harrington House Bucs vs. Lobstahs Lions
Jan. 31, Thursday, 6 p.m., Tyler's Ice Cream Vikings vs. Slim's Place Patriots
Jan. 31, Thursday, 7 p.m., Beach to Bay Construction Ravens vs. Waterfront restaurant Dolphins
Jan. 31, Thursday, 8 p.m., Duncan Real Estate Cardinals vs. The Island Sun Bills
Jan. 31, Thursday, 9 p.m., Duffy's Tavern Raiders vs. Sato Real Estate Browns
14–17-Year-Olds Flag Football Results
Integrity Sound Falcons 37
Beach to Bay Construction Browns 0
Eat Here Packers 34
Walter & Associates Bears 13
14–17-Year-Olds Flag Football schedule
Feb. 2, Saturday, 12 p.m., Walter & Associates Bears vs. Eat Here Packers
Feb. 2, Saturday, 1 p.m., Integrity Sound Falcons vs. Beach to Bay Construction Browns
Feb. 2, Saturday, 2 p.m., Lobstahs Colts vs. West Coast Surf Shop Bucs
Feb. 4, Monday, 8 p.m., Beach to Bay Construction Browns vs. Lobstahs Colts
Feb. 5, Tuesday, 7 p.m., Eat Here Packers vs. Integrity Sound Falcons
Feb. 5, Tuesday, 8 p.m., West Coast Surf Shop Bucs vs. Walter & Associates Bears
11–13-Year-Olds Flag Football Results
Holy Cow Ice Cream Cardinals 41
Mr. Bones Colts 0
11–13-Year-Olds Flag Football schedule
Feb. 1, Friday, 8 p.m., Lobstahs Bucs vs. Walter & Associates Bears
Feb. 2, Saturday, 9 a.m., Beach Bums Ravens vs. Ross Built Construction Dolphins
Feb. 2, Saturday, 10 a.m., Mr. Bones Colts vs. Holy Cow Ice Cream Cardinals
Feb. 2, Saturday, 11 a.m., Edgewater Realty Jaguars vs. Lobstahs Bucs
Feb. 4, Monday, 6 p.m., Ross Built Construction Dolphins vs. Edgewater Realty Jaguars
Feb. 4, Monday, 7 p.m., Holy Cow Ice Cream Cardinals vs. Beach Bums Ravens
8–10-Year-Olds Flag Football Results
Lobstahs Browns 7
LPAC Cardinals 18
Coastal Orthopedics Bears 12
Manatee Cancer Center Dolphins 6
Tyler's Ice Cream Vikings 13
Beach Bistro Bucs 0
Miller Electric Chargers 20
Air & Energy Jets 14
8–10-Year-Olds Flag Football schedule:
Jan. 30, Wednesday, 6 p.m., Lobstahs Browns vs. Manatee Cancer Center Dolphins
Feb. 1, Friday, 6 p.m., Beach Bistro Bucs vs. Miller Electric Chargers
Feb. 1, Friday, 7 p.m., Air & Energy Jets vs. Coastal Orthopedics Bears
Feb. 5, Tuesday, 6 p.m., LPAC Cardinals vs. Coastal Orthopedics Bears
5–7-Year-Olds Flag Football Schedule
Feb. 1, Friday, 6 p.m. – Lobstahs Broncos vs. Tyler's Ice Cream Vikings
Adult co-ed Volleyball Results
Duncan Real Estate 25
Lobstah's 16
(First game of best 2 out of 3)
Duncan Real Estate 25
Lobstah's 20
(Second game of best 2 out of 3)
Tyler's Ice Cream 25
Island Real Estate 14
(First game of best 2 out of 3)
Tyler's Ice Cream 25
Island Real Estate 19
(Second game of best 2 out of 3)
Duncan Real Estate 25
Island Real Estate 20
(First game of best 2 out of 3)
Duncan Real Estate 25
Island Real Estate 22
(Second game of best 2 out of 3)
Adult co-ed Volleyball schedule
Jan. 29, Tuesday, 6:30 p.m., Island Real Estate ,vs. Lobstah's
Jan. 29, Tuesday, 7:30 p.m., Duncan Real Estate vs. Tyler's Ice Cream
Jan. 29, Tuesday, 8:30 p.m., Lobstah's vs. Tyler's Ice Cream