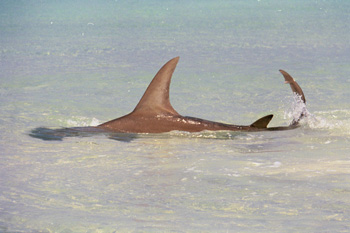 CiNDY LANE | SUN
This nine-foot hammerhead shark was caught from
the shore in Bradenton Beach and released.
HOLMES BEACH – Police Chief Bill Tokajer told Island elected officials last week that he has found two sections of the city's code to address problems created by fishers along the Gulf beaches.
Representatives of three Gulffront resorts have complained to the city about shark fishing in front of their businesses. Problems include chumming in swimming areas, noise and leaving fish and shark parts on the beach.
Several resort owners contacted Manatee County Commissioner Carol Whitmore, who said, "I am requesting that someone consider what we can do regarding the proliferation of shark fishing on the beaches with carcasses being left on the beaches.
"It seems to be in the 500 to 700 block of Holmes Beach, but I am sure there are other areas on the Island."
"I told the guys to keep a close eye on the area and watch for things like noise, trash, fishing licenses, lights and drinking," Tokajer said and added that he began looking for ordinances to alleviate the problem and found two.
"Chapter 30-81 talks about throwing out trash and dead animals within the city," he pointed out "Another one, 54-1, talks about unlawful deposits and throwing, dumping or disposing of garbage, rubbish, trash, refuse waste in any canal, lake or other body of water within the city."
"I think that's going to take care of it. We're talking about the people who are going out in front of our resorts, taking a canoe out while people are swimming, dropping chum in the water and fishing for sharks from the shore."
Mayor Carmel Monti said police responded to the resort area for several nights last week, and the situation is under control.