Island Pest Control - soccer champions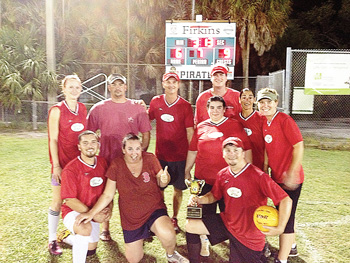 scott dell | submitted
2013 AMICC Adult Co-ed Kickball Champions Tyler's Ice Cream.
The Anna Maria Island Community Center's 2013 adult co-ed soccer ended its season Thursday night with a premier performance by the number one seeded Island Pest Control team and the number three seeded Wash Family Construction team.
The first half of the game was dominated by great defensive play. The goal keepers were not very busy as the defensive wall in front of them held strong. For the Island Pest Control team it was an impressive defensive performance by Oliver Petereit, Sean Sanders and Max Gazzo with Frank Agnelli in goal. For the Wash Family Construction team it was a rock solid defensive performance by Kelsea Bachman and Erin Vogal with Aaron Parkin in goal.
The first half ended in a 0-0 tie. Due mainly to three free kicks, Island Pest Control had more chances on offense then Wash Family Construction but none that found the back of the net.
The first 12 minutes of the second half was exactly the same type of game, and viewers wondered when and if any team would be able to break the other's defense and score.
The Island Pest Control team struck first with 10 minutes left to play. Danny Anderson took advantage of a free kick from about 20 yards out and scored to make it 1-0 Island Pest control.
One minute later, Lindsey Weaver intercepted a Wash Family Construction pass. She then passed to a wide open Emily Argeros, who finished the shot to the right corner for the goal and a 2-0 lead.
With five minutes left in regulation play, Danny Anderson scored his second goal of the game. Oliver Petereit sent a beautiful pass up to Anderson, who ripped a clear shot on goal. Within a five minute time period, Island Pest Control had taken a commanding 3-0 lead.
Wash Family Construction did not give up though. With approximately two minutes to play in regulation, Aaron Parkin took a corner kick and sent a great pass to teammate BJ Grant in the box. Grant got there just in time and finished for the Wash Family Construction goal. Score 3-1.
Very soon after, Kris Yavalar threw a perfect ball into the box area to teammate Darrin Wash. Darrin headed the ball into the net for the second goal, score 3-2.
The momentum had shifted to the Wash Family Construction team, but it was a little too late. Time expired by the referee, and the number one seeded first place Island Pest Control team is the 2013 AMICC Adult Co-Ed Soccer Champions.
Tyler's Ice Cream Kickball Champions
The Cinderella playoff teams struck one last time during the Anna Maria Island Community Center's spring sports season. Except for the adult soccer tournament, the championships have all been won by the underdogs this year, but none more unexpected then in adult co-ed kickball.
The last place Tyler's Ice Cream team fought its way from the bottom to the top last week and defeated the undefeated number one seeded Beach to Bay Construction team by a score of 9-6.
All year long Tyler's Ice Cream Player, Jeff Laade, said, "We got you right where we want you." Even though he would say this when they were losing all of their regular season games, it looks like in the end he was absolutely right.
It is said in sports that the team that gets hot at the right time of year is usually the one to win it all. The kickball playoffs and championship game took place all in one night and Tyler's Ice cream played incredible when it counted. It first came back from a 14-0 deficit to defeat Lobstah's 15-14 in the playoffs before winning the championship game.
Congratulations to the Cinderella story team of the year and players Laura Alderson, Rob Alderson, Mark Davis, Diego Felipe, Erin Heckler, Jeff Laade, Chrissy McCracken, Chuck McCracken, Aris Thompson and Erin Vogal
Adult Co-Ed Kickball Results
Tyler's Ice Cream 15
Lobstahs Playoffs 14
Beach to Bay Construction 13
Agnelli Pools & Spa Playoffs 9
Tyler's Ice Cream 9
Beach to Bay Construction 6
Championship