J's Bistro: affordable gourmet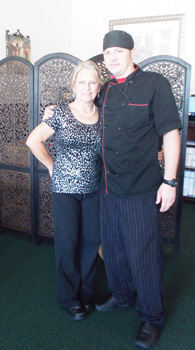 Louise Bolger | sun
Jeanne Clark and her son,
Jeremy Creps, opened J's Bistro
in February.
Bistros are generally associated with Paris and defined as a small moderately priced restaurant serving simple hearty food. There is a new bistro in town that meets two of a Parisian bistro's criteria – the food is hearty and it's moderately priced, but simple, not so much.
Jeremy Creps has always had a passion for food, knowing this is what he wanted to do with his life. After he attended the Le Cordon Bleu culinary school in Orlando, he worked as a chef in several establishments including the Sarasota Yacht Club, where he was the chef de cuisine. He was also the sous- chef at the Tampa Conference Center, as well as being involved in establishing the business. But what he always wanted to do was open his own restaurant. In February of this year, Creps' dream came true when he and his mother, Jeanne Clark, opened J's Bistro in Bradenton.
J's is one of those great little neighborhood places that offers fresh homemade food at chain restaurant prices. They don't use anything prepackaged and don't even own a microwave. The menu offers everything from burgers to filet mignon and you'll be greeted by Jeanne Clark and her staff, that remember their regulars by name and are always happy to see you.
J's lunch menu choices, which are also available for dinner, include burgers, French dip, Italian panini, Ruebens, mahi-mahi and more. They also have appetizers like fried green tomato caprese and sesame crusted ahi tuna as well as homemade lobster bisque and the soup of the day, as well as a large selection of flatbreads.
The dinner entrees include filet mignon, half roasted chicken, seared salmon and shrimp scampi. There are also side dishes, salads and desserts. J's has daily specials, and Creps is always looking for new and creative dishes for his patrons.
Beer and boutique wines are available, as well as Jeanne Clark's special sangria. J's Bistro has been very busy since it opened with small parties for celebrations and condo get togethers. It offers catering and delivery all over including Anna Maria Island.
Also playing a big part in the success of J's Bistro is Del Clark, Jeanne's husband and Brittany Driskell, Creps fiancé who is the catering chef. Everyone at J's wants to thank the local community for its support and look forward to welcoming back their winter friends.
J's Bistro is a nice alternative to crowded Island restaurants where parking can be a problem in season. It's not far from the beach and it's on the way to Sarasota's theaters and shopping areas. J's Bistro says it offers gourmet food at café prices and Jeanne Clark supports that by saying, "Once they eat here, they keep coming back."
It may not be on the left bank, but J's Bistro still has good quality food at affordable prices with a gourmet touch, and it's a lot closer than Paris.
J's BISTRO
Winn Dixie Marketplace
3550 53rd Ave. W., Bradenton
941-254-7988
www.Jsbistrobradenton.com
Tuesday-Friday: 11 a.m. to 9 p.m.
(Open Mondays starting Oct. 1)
Saturday: 4 p.m. to 9 p.m.
All major credit cards accepted