Explore the Regina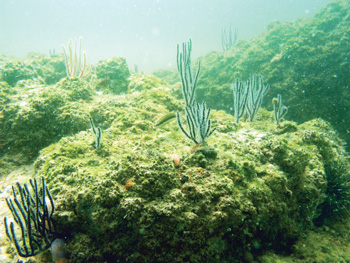 Photos by Ed Ice
The beginnings of a coral forest on an old deck piece
of the Regina attract a sea urchin and a juvenile wrasse.
The wreck of the Regina is a state underwater archaeological preserve off the 800 block of Bradenton Beach. The sugar barge sank during a storm on March 8, 1940, killing the cook and the ship's mascot, a German shepherd. Seven crew members were saved with help from the U.S. Coast Guard and Cortez village fishermen.
See the Regina before the next beach renourishment; for several years following the last renourishment, only the stern was visible, and the bottom was around 11 to 12 feet deep. The bottom is now about 17 feet deep, and the boiler and bulkheads, as well as the deck, are visible, like they were when the wreck was dedicated as a preserve in 2004.
Marked by buoys, unless they're removed by weather or vandals, the wreck is snorkel-friendly, but dive flags are required – the Regina is not in a swim zone.