How to land a seabird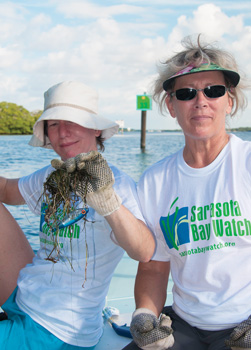 Submitted
Debi Osborne, left, and Suzanne Gregory of
the Conservation Foundation of the Gulf Coast
show off a handful of line and tackle found at
a recent joint cleanup with Sarasota Bay Watch
and the Sarasota Crew.
On Saturday, Oct. 5, Sarasota Bay Watch (SBW) will collaborate with Audubon Florida, Save Our Seabirds and the Sarasota Sailing Squadron to sponsor a fishing line cleanup of local bird rookeries (nesting islands). The cleanup is conducted this time of the year because most birds do not nest in the fall. SBW will target discarded fishing line from shorelines and bridges as well as bird rookeries. Last year's cleanup attracted over 80 volunteers and recovered three football field lengths of fishing line from the bay's coastline. Collected materials will be weighed and measured and the data shared with scientists working on entanglement issues. This is a great opportunity to make a real difference in the lives of seabirds and other marine wildlife.
Participants are encouraged to bring a boat or kayak. Those without boats are welcome to attend. There may be limited space available on boats but if possible SBW will attempt to help find volunteers without a boat a ride. Cleanup may also be done on foot around the bridges and shorelines near the Sailing Squadron. All volunteers are encouraged to bring sturdy footwear, sunscreen, eye protection, water, hats and gloves. Another option for participants who live on or near the water is to do a cleanup locally and then bring the line to the Sailing Squadron. If you decide to do a "neighborhood" cleanup please give SBW a call at 941-232-2363.
Anglers who fish the coastal waters of Florida will invariably come into contact with seabirds that inhabit the estuaries of Florida. Often that encounter is deadly to seabirds because anglers don't know the basics of caring for our feathered friends. Birds live here, it's their home, and often they actually aid anglers in their search for fish. The birds get into trouble when they either come into contact with discarded fishing line in the mangroves, or they take line to their roosts after becoming hooked by fishermen that don't know how to properly handle them.
If you hook a bird while fishing make sure that you fight them to the boat with a properly set drag to prevent them from breaking free while trailing line. This is a death sentence for the birds when they return to their roost at night. If you work the bird to the boat as you would a prized fish, they can be held by the neck or head while the hook is removed. Care should be taken with all birds, especially ones that have sharp beaks. A towel placed over the bird's head will calm them. Remember to handle birds carefully as they have very light, hollow bones. Cautiously unwind the line from wings and feet and then check the bird carefully before releasing them. If you hook a lure or bait in the mangroves make sure you don't leave line there that might entangle a bird.
We all want to help the birds but be cautious if it's the nesting season. If you see a hooked or tangled bird in an active rookery, don't approach them as their young may be startled and fall from the nest. Trying to help them in a case like this may unfortunately do more harm than good. Instead call Save Our Seabirds or Audubon and let them know where the bird is located.
The incidence of anglers hooking birds can be reduced by following a few simple rules. First, never feed birds. This trains birds to look for a handout and leads to trouble for birds and anglers. Secondly, while you're fishing be aware of birds that might be eying your bait or lure. It's easy to pull them out of harm's way at the last second before a seabird dives on them.
Taking care of the environment that feeds our passion is everyone's responsibility. If you see a bird in distress call Save Our Seabirds at 941-388-3010 or Audubon Coastal Island Sanctuaries at 813-623-6826.
You can sign up for this clean up, find out about future events, and join Sarasota Bay Watch by going to www.sarasotabaywatch.org.