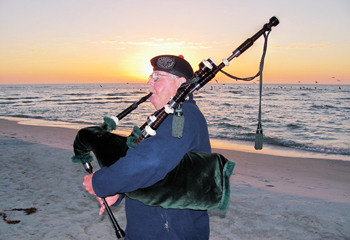 cindy lane | sun
HOLMES BEACH – Wander down to the 77th Street beach access just before sunset, and you might encounter Neil Culbertson, "The Pied Piper of Robin's Beach."
Honoring an old Scottish tradition, Culbertson often ends his day standing on the beach, with bagpipes in hand, serenading the setting sun and those watching it, as it sinks below the Gulf of Mexico horizon. A reader recently expressed disdain for Culbertson's piping affinities, but his fans far outweigh his critics. About 30 folks were on hand for his Monday, Feb. 17, performance; and he played to an even larger crowd the night before.
Monday' evenings song selection included "Scotland the Brave," "Flett from Flotta," and "Auld Lang Sine." The sun made its final stand to the strains of "Amazing Grace" and one more song ended a brief performance that was as much about friendship as it was about musicianship.
Culbertson typically arrives about 15 minutes before sunset. He plays a song, chats with friends, plays another, and chats some more. Each song lasts about 90 seconds.
"I do it because I like to play, and I know people like to hear it," the jovial Culberson explained between songs.
RETIREE
Culbertson is a retired Verizon communications technician from Erie, Penn. He has been playing the bagpipes for 25 years, and he received his formal training at the Balmoral School of Piping in Pittsburgh.
"It's just something I wanted to learn how to play. It's not easy, let me tell you. It's very hard," he said.
Made in Cleveland, his African Blackwood bagpipes cost $1,200 10 years ago.
On occasion, Culbertson performs with the Sarasota Highlanders. Back home, he plays at Shriners' events, wakes, funerals and an occasional Lake Erie sunset.
For the past seven years, he and his wife Patti have spent February and March on the Island, with most of those stays occurring in Holmes Beach.
Mrs. Culbertson usually attends her husband's performances, but she took Monday night off in order to join friends at the Anna Maria Island Beach Café.
Culbertson can be found on the beach most evenings during his stay, but he is not adverse to taking a night off if the weather is bad or he has a social obligation to meet.
Dean and Jeanne Enrooth, from Minneapolis, stay near the 77th Street beach access. Before each performance, he provides Culbertson with a cocktail.
"That's become our little routine," Dean said.
"He makes you happy," Jeanne added. "It's a public beach and it's not like he's playing loud, rowdy music."
Visiting from Pennsylvania, Lyle Stewart, joined his friend on the beach. "It's a beautiful setting and nothing stirs the heart more than the pipes. Someday I'm going to learn how to play," he said.
Robin's Beach
Culbertson's sunset performances used to take place further north on the Island. He refers to his current location as Robin's Beach, in tribute to his friend, Robin Giles.
They first met a few years ago while renting near one another at the north end of the Island. Giles became a fan, and last year invited him to play near her new spot on 77th Street.
"He started coming here, and one day he told his wife he had to go to Robin's Beach, so it kind of stuck," she explained.
Although she leads an active life, Giles sets aside time for Culbertson's sunset serenades. "It's an important part of my day. It's a time to get together with friends and end the day," she said.
As for the gentleman who suggested that Culbertson's performances were disturbing the peace, Giles said, "That really upset him, but Neil has our support."
Culbertson appreciates the encouragement: "I'm glad I got the support from the community to keep playing because I was a little bummed out. But I'm all over that; you can't please everybody."
His performance Monday night certainly pleased Jim and Kathy Stacy, from Columbus, Ohio, who returned after discovering him the previous night.
"Bagpipes we love," she said. Her only complaint was that the performance was too short.
"You really have to stand pretty close to hear him, so I'm surprised anyone would complain," Jim Stacy said.
"I spent 37 years in law enforcement so I've got an affinity for bagpipes. Bagpipes are a large part of law enforcement, and this means a lot to us."
Former Los Angeles resident Karen Storms lives near the beach access and supports Culbertson's endeavor. On New Year's Eve, she heard him perform "Auld Lang Sine" as the sun set on 2013.
"That was just the most amazing, spiritual thing," the still-active acting coach said of Culbertson's year-end performance.