Upsets of the unbeatens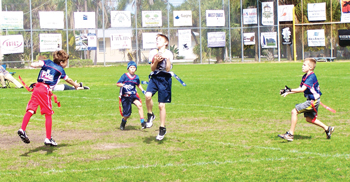 scott dell | submitted
Jacob Klusacek, of the Manatee Diagnostic Ravens,
makes the first down catch at mid-field during
AMICC 8-to-10-year-old NFL Flag Football action.
The last two unbeaten teams in the Anna Maria Island Community Center's NFL Youth Flag Football leagues fell to defeats for the first time all season.
In the 8-to-10-year-old division, the West Coast Air & Heating Dolphins defeated the undefeated Beach Bistro Buccaneers by a score of 40 to 7. Dolphins quarterback Julius Petereit threw an amazing 17 completions and seven touchdowns. Callen Achor caught eight of those passes and five touchdowns. Connor Allen and Charlie Halfacre caught the other two touchdowns.
For the Beach Bistro Bucs, quarterback Chris Snyder ran for their only touchdown of the game and threw an extra-point pass to German Rivera.
In the 11-to-13-year old division, the Sandbar Colts knocked off the undefeated LPAC Cardinals by a close score of 20 to 13. Colts quarterback Matt Manger threw three touchdown passes and had five flag pulls to lead his team to victory. Michael Latimer caught two touchdowns and had five flag pulls. Nathan Hyman caught the other touchdown pass, and Joe Rogers had a key interception on defense.
For the LPAC Cardinals team, quarterback Joey Stewart threw for one touchdown and also caught one TD. Andrew Proctor threw the other TD pass and also caught an extra-point pass from Stewart. Daniel Sentman caught the other touchdown pass.
Playoffs begin in two weeks, and the race to the season championship and the first place seed are coming down to the home stretch. Catch all the red hot flag football action at the Community Center to find out how it all turns out.
To see or purchase pictures of this and other games, visit www.amisun.com
Youth 5-7-Year-Old Flag Football Schedule
Feb. 28, Friday, 6 p.m. – Miller Electric Broncos vs. Beaches Real Estate Packers
Feb. 24, Monday, 6 p.m. – Beaches Real Estate Packers vs. Air & Energy Bucs
Youth 8-10-Year-Old Flag Football Results
Beach Bums Patriots 12
LPAC Cardinals 12
West Coast Air & Heating Dolphins 40
Beach Bistro Buccaneers 7
Tyler's Ice Cream Vikings 19
DoJo Martial Arts Cowboys 13
Beach Bums Patriots 24
Beach Bistro Buccaneers 13
LPAC Cardinals 21
Tyler's Ice Cream Vikings 6
Manatee Diagnostic Ravens 18
DoJo Martial Arts Cowboys 13
Youth 8-10-Year-Old Flag Football Schedule
Feb. 26, Wednesday, 6 p.m. – Tyler's Ice Cream Vikings vs. West Coast Air & Heating Dolphins
Feb. 28, Friday, 6 p.m. – DoJo Martial Arts Cowboys vs. LPAC Cardinals
Feb. 28, Friday, 7 p.m. – Manatee Diagnostic Ravens vs. West Coast Air & Heating Dolphins
March 1, Saturday, 9 a.m. – Beach Bums Patriots vs. Tyler's Ice Cream Vikings
Youth 11-13-Year-Old Flag Football Results
Beach to Bay Bucs 12
Will C. Photos Falcons 6
Bark & Company Realty Ravens 31
Beach to Bay Bucs 12
Sandbar restaurant Colts 20
LPAC Cardinals 13
Will C. Photos Falcons 37
Eat Here Redskins 31
Youth 11-13-Year-Old Flag Football Schedule
Feb. 28, Friday, 8 p.m. – Beach to Bay Bucs vs. Sandbar restaurant Colts
March 1, Saturday, 10 a.m. – Will C. Photos Falcons vs. Bark & Company Realty Ravens
Youth 14-17-Year-Old Flag Football Results
West Coast Surf Shop Jaguars 39
The Island Sun Bears 0
Galati Yacht Sales Bucs 45
Swordfish Grill Browns 37
Mr. Bones Bengals 27
Integrity Sound Lions 8
The Feast restaurant Broncos 55
Waterfront restaurant Cowboys 6
Youth 14-17-Year-Old Flag Football Schedule
Feb. 27, Thursday, 6 p.m. – Galati Yacht Sales Bucs vs. Integrity Sound Lions
March 1, Saturday, 11 a.m. – Waterfront restaurant Cowboys vs. Mr. Bones Bengals
March 1, Saturday, 12 p.m. – The Island Sun Bears vs. Swordfish Grill Browns
March 1, Saturday, 1 p.m. – West Coast Surf Shop Jaguars vs. The Feast restaurant Broncos
March 4, Tuesday, 6 p.m. – Integrity Sound Lions vs. West Coast Surf Shop Jaguars
March 4, Tuesday, 7 p.m. – Swordfish Grill Browns vs. Waterfront Restaurant Cowboys
March 4, Tuesday, 8 p.m. – Mr. Bones Bengals vs. Galati Yacht Sales Bucs
Adult co-ed 18 & Over Flag Football Results
Slim's Place Bears 19
Beach Bistro Raiders 12
Duffy's Tavern Seahawks 54
Agnelli Pool & Spas Giants 20
Beach to Bay Dolphins 33
Waterfront restaurant Panthers 16
Adult co-ed 18 & Over Flag Football Schedule
Feb. 26, Wednesday, 7 p.m. – Waterfront restaurant Panthers vs. Beach Bistro Raiders
Feb. 26, Wednesday, 8 p.m. – Slim's Place Bears vs. Agnelli Pool & Spas Giants
Feb. 26, Wednesday, 9 p.m. – Duffy's Tavern Seahawks vs. Beach to Bay Dolphins
Adult co-ed 30 & Over Flag Football Results
Island Gourmet Bills 43
Jessie's Island Store Bucs 25
Agnelli Pool & Spas Giants 47
Ross Built Panthers 13
Tyler's Ice Cream Vikings 27
Island Real Estate Raiders 6
Adult co-ed 30 & Over Flag Football Schedule
Feb. 27, Thursday, 7 p.m. – Island Gourmet Bills vs. Ross Built Panthers
Feb. 27, Thursday, 8 p.m. – Tyler's Ice Cream Vikings vs. Jessie's Island Store Bucs
Feb. 27, Thursday, 9 p.m. – Island Real Estate Raiders vs. Agnelli Pool & Spas Giants
Adult co-ed Volleyball Results
Duncan Real Estate 25
Southern Greens 14
(First game of best 2 out of 3)
Duncan Real Estate 25
Southern Greens 18
(Second game of best 2 out of 3)
Florida Discount Signs & Wraps 25
Southern Greens 19
(First game of best 2 out of 3)

Florida Discount Signs & Wraps 25
Southern Greens 15
(Second game of best 2 out of 3)
Florida Discount Signs & Wraps 25
Duncan Real Estate 19
(First game of best 2 out of 3)
Duncan Real Estate 25
Florida Discount Signs & Wraps 17
(Second game of best 2 out of 3)
Duncan Real Estate 25
Florida Discount Signs & Wraps 10
(Third game of best 2 out of 3)
Adult co-ed Volleyball Schedule
March 4, Tuesday, 6:30 p.m. – Southern Greens vs. Duncan Real Estate
March 4, Tuesday, 7:30 p.m. – Duncan Real Estate vs. Florida Discount Signs & Wraps
March 4, Tuesday, 8:30 p.m. – Southern Greens vs. Florida Discount Signs & Wraps