Whitmore working to save pelicans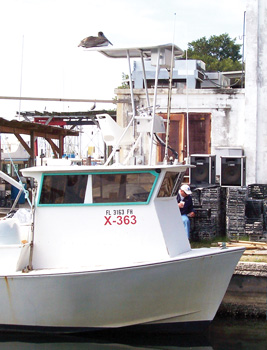 CINDY LANE | SUN

Pelicans frequent piers and docks where people fish,
like this one in Cortez. They can become entangled
in or ingest fish hooks, which are often fatal.
In an effort to save pelicans from fishing hooks, Manatee County Commissioner Carol Whitmore is asking local government officials to consider passing an ordinance similar to one used in Naples, publicized by The Sun in May, shortly after it was enacted.
Whitmore said she plans to raise the issue at a Barrier Island Elected Officials meeting scheduled on Wednesday, July 16, at 2 p.m. at Holmes Beach City Hall, 5801 Marina Drive in Holmes Beach.
In a letter to county commissioners and local city mayors, Whitmore said she is responding to an outcry from local citizens and organizations rescuing pelicans and other birds entangled by and ingesting fishing lines with multiple hooks.
The efforts of Wildlife Education and Rehabilitation Inc. in Bradenton Beach and of Holmes Beach resident Jeannie Holmes Bystrom and her family and friends have been featured in The Sun, which also publishes Bystrom's "Don't Cut the Line" public education campaign.
At Whitmore's request, Assistant Manatee County Attorney Bill Clague researched Naples ordinance 14-13439, which prohibits the use of "fish hooks, lures and bait having two or more hooks sharing a single shank." The ordinance applies only to the Naples-owned fishing pier, probably because Florida Statute 379.2412 gives the state the power to regulate the taking or possession of saltwater fish, he wrote Whitmore in an e-mail.
According to Clague, the statute generally prohibits local governments from regulating saltwater fishing – except on property owned by the local government, such as piers, parks or preserves.
"If the county wished to impose a regulation like the one established by the city of Naples, it could legally do so for fishing on county-owned property, such as the beach parks on Anna Maria Island and the county-owned preserves," Clague wrote. "The rules governing fishing in county parks are set forth in subsection 2-24-6(3) of the County Code of Ordinances, which can be amended by ordinance to incorporate the regulation."
"If there is a way we can look at something like what they are doing in Naples on a smaller scale, we may be able to save birds from something we may have never thought can kill so much wildlife," Whitmore said.
Fishing line also entangles and is ingested by sea turtles, dolphins and other species.
The Conservancy of Southwest Florida, an environmental group, pushed for the Naples ordinance after spending $100,000 on pelican surgeries last year, according to Roger Jacobson, code enforcement manager for the city of Naples.
Naples funds the enforcement of the ordinance with non-resident beach parking fees, which pay for a seven-day-a-week pelican patrol on the city pier to educate fishermen and rescue hooked pelicans. Parking fees also pay for a fulltime ATV beach patrol to enforce safety and environmental violations, such as fishing without a permit, he said.
Whitmore said she has notified members of the state legislative delegation, Sen. Bill Galvano and Reps. Jim Boyd, Greg Steube and Darryl Rouson, about the problem, adding that she plans to meet with them before next year's Legislative session to form proposed state legislation.