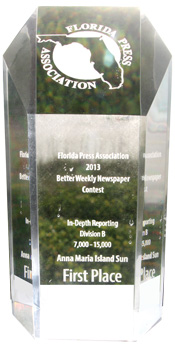 mike field | sun
The entire Sun staff was recognized for general excellence in the 2013 Florida Press Association Better Weekly Newspaper Contest, while the graphic designer and co-publisher were commended for the publication's design, two staff writer/photographers were praised for news and feature stories and photography, and accolades were presented to the publication's cartoonist and a contributing photographer.
Judges for the contest applauded The Sun's staff for "great journalism," "engaging graphics," "excellent photography," "strong art" and "attractive design," among other achievements. The newspaper competed in Division B, which includes publications with circulations of 7,000 to 15,000.
The Sun was the only newspaper on Anna Maria Island to receive any awards.
"I'm really proud of our entire staff," Sun Publisher Mike Field said. "The contest results reflect just how much time, effort and dedication our people bring to their jobs. We are so fortunate to work in such a great business and are deeply honored by the recognition and comments of the Florida Press Association judges."
This year's awards are:
First place
• Cindy Lane: Local Government Reporting, for "Anna Maria Island – Filled to the gills?" about Island leaders appealing to local tourism officials to scale back marketing the destination, saying it has exceeded its capacity for absorbing tourists. Judges said she "reported well and completely on the impact of tourism on the local economy."
• Tom Vaught: Education Reporting, for "Chores No More a Winner," detailing speech contest topics by Anna Maria Elementary School students. Judges called the story "Well written and a really good story," and praised the reporter's "very engaging style."
• Cindy Lane: In-Depth Reporting (non-investigative), for "Flood insurance rates soon to rise." Judges' comments included, "This is great journalism! It's not an easy task to make readers interested in flood insurance rates, but you pulled it off, and you shined some light on questionable government practices."
• Cindy Lane: Agricultural and Environmental Reporting, for "Oil spill leaves residue of uncertainty." Judges said the reporter "… did a fine follow-up story on the Deepwater Horizon oil spill… she showed readers how much was left undone three years later."
• Cindy Lane: Community History, for "Cruise the Historic River," about the AMI Water Shuttle's Manatee River cruise, a partnership with the Manatee County Historical Resources Department.
• Duke Miller: Feature Photo, for "Perfect landing," depicting a white pelican's water landing off Cortez. Judges praised the contributor's "Excellent timing, perfect resolution and background color."
Second place
• Anna Maria Island Sun Staff: Overall General Excellence, including an issue that led with a story titled "The search ends," about efforts to find a small boy who was swept out into the Gulf of Mexico while swimming. Judges noted the issue's "Clean, attractive design," "excellent pics," "meaty stories" and "revenue generating ideas."
• Steve Borggren: Original Local Editorial Cartoon, for "Island cottages."
• Cindy Lane: Feature Story (non-profile), for "Insider's Island," a tourist's guide to well-known and lesser-known places of interest on and offshore of Anna Maria Island.
• Cindy Lane: Best Headline, for "Landscaping project wilts."
Third place
• Ricardo Fonseca, Mike Field: Overall Graphic Design, for an issue that led with the story, "Fire hits Rod and Reel." Judges praised "Lots of entry points for readers," and commented that "engaging demographics and strong art add to the overall flow of the content throughout the publication."
• Cindy Lane: Editorial Award, for "Listen to the people," about local officials denying a marina at Long Bar Pointe but approving several thousand new homes there. Judges said: "If you are going to take leaders to task when they fail their constituents, you should commend them when they do good – this is a fine example of an editorial doing just that."
• Cindy Lane: Photo Series in One Issue, for "Soul surfers go to camp," featuring Eternal Summer Surf Camp, which offers surfing lessons combined with summer Bible school for kids. Judges said "Lane had multiple entries that were impressive… she's consistently a very good journalist with a variety of talents."
• Cindy Lane: Sports picture, for "Paddleboard master," featuring Island native Izzi Gomez competing at the 28th Annual National Kidney Foundation Rich Salick Pro/Am Surf Festival in Cocoa Beach.
• Tom Vaught: In-Depth Reporting (non-investigative), for "Complaints prompt police search."
• Tom Vaught: Feature Story (non-profile), for "Boston nurses remember bombings."