DOA lures writers and guides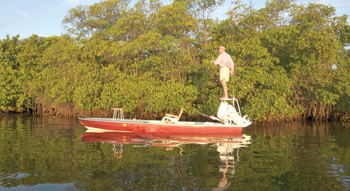 rusty chinnis | sun
Captain Mark Benson works his custom flats boat along the edges
of the southern Indian River Lagoon.
If you're a savvy fisherman, you can't help but be impressed with the DOA (Deadly on Anything) line of lures. The story behind the creation and evolution of the lures through the ingenuity and determination of the founder and designer is all the more remarkable. Mark Nichols didn't start DOA with seed money or a public offering. He started his company with an idea, the most rudimentary of materials and most importantly an indomitable spirit.
Oh, and yes, the fact that he had an affinity for finding and catching fish only added to the allure of the company's amazing growth. Nichols doesn't ask anglers to believe him, he shows them firsthand how his creations seduce fish. What started out as an idea for an artificial shrimp has blossomed into a multi-million dollar operation that has made believers out of some of the nation's top anglers.
Nichols made his name with his first lure, the hugely popular and effective DOA Shrimp. In Texas he worked as a deck hand on a bay shrimper where he examined shrimp in the holding tank which were destined to end up on angler's hooks. The days of observation on the water coupled with a concern for by-catch created by the bay shrimping industry gave Nichols the idea to create an imitation life-like shrimp.
After a move to Florida, he started experimenting with shrimp imitations carved out of cedar which he weighted with lead tire weights. The prototypes morphed into a plastic shrimp that lead to other creations like the Baitbuster, the TerrorEyz, the C.A.L. jigs, Deadly Combo , Cal Paddle Tail and the Airhead, just to name a few. Now his lures are a standard in tackle boxes across the country and have many tournament wins to their credit.
Recently I had the pleasure of attending the Annual Writer's and Guide's Outing that the company holds every year. I made the trip over with my friend Captain Rick Grassett and Captain Andy Cotton. We were hosted at the River Palm Fish Camp, a collection of renovated old Florida cottages positioned on a beautifully landscaped property overlooking the Indian River Lagoon. An authentic Florida Seminole chickee hut sits next to the beach on the river adjacent to the resort's docks, creating the perfect location for this fantastic event.
After a night of fine food, libations, and networking with writers, guides and manufacturers, we spent a day fishing the southern Indian River Lagoon and the St. Lucie River. This region of the state has a tremendous inshore fishery that includes large trout (to 10 pounds plus), tarpon, redfish, pompano, and huge snook. The ocean also offers a chance at false albacore (bonito), sailfish, permit, tripletail, tarpon and a host of other species.
The event lasted from Sunday to Tuesday and featured a day and a half of fishing. I was paired with Captain Mark Benson, of Orlando, who I had fished with a few years ago. Although Benson has fished regions as diverse as the Bahamas and the Virgin Islands, British Columbia, New Zealand and the deep blue waters of Central America for marlin, his true passions remain the stalking of tailing redfish on the flats of east central Florida and seasonally for shad from December through March.
The fishing was tough this year due to large volumes of fresh water that had been dumped from central Florida through the nearby St Lucie River system, but a few nice fish were still landed over the day and a half event. Benson and I had our chances, missing several nice snook and trout that we couldn't manage to keep pinned to our DOA Shrimp. We also saw numerous other snook, tarpon, black drum and other species that we couldn't entice, mostly due to the conditions.
Despite the fact that the fishing wasn't as productive as in year's past, everyone had a terrific time as guests of DOA and River Palm. DOA Lures, especially the Shrimp, TerrorEyz, C.A.L. Jig line, Bait Buster and now the Airhead should occupy a place in every dedicated angler's arsenal. If you use the lures you'll know what I mean. If you haven't, you're in for a pleasant surprise. Check out all the fine products from DOA at http://www.doalures.com.
For great accommodations, whether you're an angler or just enjoying the beauty and diversity of the Indian River Lagoon, the River Palm Fish Camp is sure to please. Check it out at www.riverpalmcottages.com.
Benson can be contacted www.markbensonoutdoors.com or call him at 407.257.5750.