Fishing with Captain Andy Cotton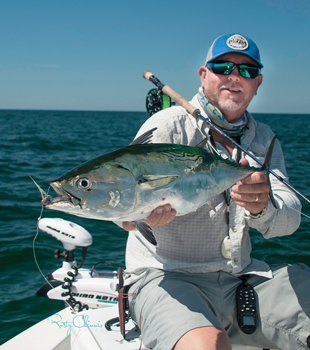 Captain Andy Cotton shows off a fly-caught false
albacore before a quick release
rusty chinnis | sun
The early fall season can be a crap shoot. One day the waters are roiling with bait and game fish, while the next day action can be slow or non-existent. Last week, I had the pleasure of spending a day on the water with Captain Andy Cotton when the action was fast and furious. During a day that started at 9 a.m. and ended at 2:30 p.m., we caught and released false albacore and Spanish mackerel until we lost count using a wide variety of tackle, lures and flies.
Cotton had been finding action about a mile and a half off New Pass, and although he had been starting early, he had noticed the action didn't get good until about 10 a.m. That's why we met at 9 at Ken Thompson Park boat ramp.
Cotton is a Florida native and has been fishing his whole life. He was born in Haines City, and began to fish the area's freshwater lakes for largemouth bass early in life. He moved to the Sarasota/Bradenton area in 1983 and developed an instant interest in local saltwater fishing. In 2005, Cotton became a licensed and insured USCG Captain.
His father-in-law is Captain Rick Grassett, who coached Cotton and helped him get started in business. Cotton made the best of his opportunity to learn from one the area's premier guides and has developed a unique style of his own. His specialties are artificial lures, light tackle and fly fishing. He plies his craft aboard a well-appointed Action Craft 1910 Coastal Bay.
When we first arrived on the scene about a mile off New Pass, the action was spotty with schools of Spanish mackerel and false albacore hitting the surface in a feeding frenzy and then quickly disappearing, a common trait of both species. Cotton used his knowledge of the fish's peculiarities and read the patterns of the birds, giving us a chance to get DOA CAL jigs into the action while it was on the surface
One of the favorite colors was the teal/ice tail. Cotton had spinning tackle that was loaded with braided line and allowed long casts that vastly improved our odds with the fast moving schools. He was the first to hook up as an 8-pound albacore chased his jig to the surface and exploded on it.
Anyone who has caught these fish on light tackle can appreciate the singing drag and deeply bowed rod that Cotton maneuvered around the boat as the fish ran hard in one direction and then reversed course ripping line through the water's surface. After about a five minute battle we lifted the fish from the water by the tail, took a quick picture and launched it back into the Gulf.
When I say launched, it is meant almost literally. False albacore are in the tuna family, are fast swimmers and use their speed to oxygenate their blood. After a long fight they benefit from a fast release where they are forcefully speared back into the water head first.
As the day progressed, more and more schools of fish showed and stayed longer on the surface allowing us to fish them with flies on eight-weight Orvis tackle. We caught both species on sub-surface flies and top water poppers enjoying the crashing strikes and the long powerful runs. Cotton even switched to a DOA Deadly Combo and caught albacore and Spanish mackerel with almost every cast. When we finally departed at the end of the day, we reluctantly left the fish feeding heavily on the surface – a great way to end a day!
Captain Andy Cotton's O'Fish All Guide Service offers a wide variety of experiences for his anglers including full days (eight hours), three-fourths or one-half days as well as night snook trips. Depending on the season you can expect to see action on a wide variety of species including tarpon, snook, redfish, spotted sea trout, bluefish, tripletail, Spanish mackerel and false albacore (aka little tunny). Contact Cotton for a charter at 941-685-9439 or visit his website at http://ofishallguideservice.com/.