Sand artists have a blast at Coquina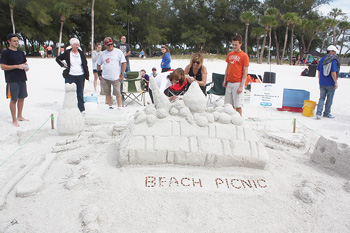 TOM VAUGHT | SUN
Bradenton Christian High School's art department created this entry
with a beach picnic theme.
Cool weather helped teams of sand artists enjoy making their creations last Saturday in the America Recycles Day at Sandblast, on Coquina Beach, just prior to the Symphony on the Sand performance by the Anna Maria Island Concert Chorus and Orchestra.
The rain held off long enough for the entries in America Recycles Day at Sandblast to be judged and when it finally rained, it was gentle enough to not wash away all the features of the entries immediately.
The Sandblast competition helped raise money for Keep Manatee Beautiful.
Results of the 2014 america recycles day at sandblast competition
The winning sculptures were:
• Free Form Theme – "Picnic on the Beach," by Bradenton Christian Art Department, sponsored by Waste Pro; the runner-up was "Minion Hot Tub Party," by "SCF Earth Club & Alliance Club, sponsored by Sarasota Bay Estuary Program.
• Wildlife Theme – "Sea Beast," by Category Five Art Club, Manatee High School, sponsored by1-800-GOT-JUNK; the runner-up was "The Grand Escape," by Palmetto High School, sponsored by Mosaic.
Medallion Awards:
• "Free Form – Mustang of the Sea," by Harllee Middle School TSA, sponsored by Tropicana;
• Music Theme – "Joyful Noise," by Boys and Girls Clubs of Manatee County, sponsored by Bright House Networks; runner-up was "Musical Minion 1," by Manatee School for the Arts, Team 1, sponsored by Waste Management;
• Music Theme – "Mickey's Fantasea," by Lincoln Middle School Student Council, sponsored by JohnNeal Homes;
• Wildlife Theme – "Elephant Splash," by Pat McNeal for Linger Longer, sponsored by Linger Longer;
• Free Form – "Angry Birds," by Manatee School for the Arts Team 2, sponsored by Carol Whitmore;
• Wildlife Theme – "Endangered Animals, by Southeast High School VPA Academy, sponsored by Florida Power and Light Co.