Octogenarian chronicles social issues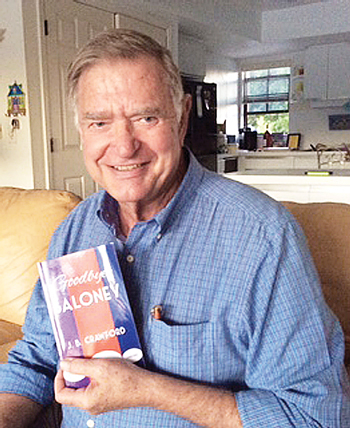 joe hendricks | sun
Cortez resident JB Crawford displays his most recent book,
"Goodbye Baloney."
CORTEZ – JB Crawford's new book, "Goodbye Baloney," provides a literary snapshot of events and issues relevant to 2014.
"Goodbye Baloney" features 77 case studies that range in subject matter from the judicial system, to electoral politics and looking for new places for humans to live.
"It's the kind of book you can sit down and read 10 minutes at a time. It's very thought provoking and an interesting book, I think," the 80-year-old Cortez resident said.
According to the book jacket, Crawford spends the early part of his days "enjoying the smell of ink, the crinkle of paper and the drama of everyday living," and his case studies were inspired by his immersion in print media.
"I am a regular and dedicated newspaper reader. I find items of interest, clip them out and write little editorials on subjects that interest me," he said.
"I wanted to share with thoughtful people the concerns I have with life in modern America. I happen to be very concerned that the United States has more people behind bars than any country in the history of the world. There's also a case study called Broken Windows that tells much about America," Crawford said.
Arranged in alphabetical order, the collection begins with Affluenza, "the uncontrolled desire to be wealthier;" and includes Failure of the War on Drugs; a Missing Fish essay on grouper fishing enforcement; Open Cuba; Port Desoto; Soak the Poor; Texas Textbooks; and Who's Your Daddy.
About the book's title, Crawford said, "There is a case study about an eight-year-old boy who made a baloney sandwich, went out and sat on the front steps, and a dog came up and took his sandwich and walked away with it. That's 'Goodbye Baloney,' and the underlining theme of having things taken away from you with exasperation and the inability to do anything about it."
Crawford cites corporate price fixing, unethical debt collection, bait and switch tactics and cramming unauthorized services on cell phone bills as example of baloney snatching.
"These are organizations trying to get your sandwich, and one of the messages in the book is you have to be alert and protect what you have," Crawford said.
Crawford also weighed in on the events that took place in Ferguson, Missouri after his book was published.
"It's a tragedy that we have to come to this kind of confrontation between law enforcement and people just walking around; but it happens, and it happens with increasing regularity. Ferguson is one more example of the things in America we need to pay more attention to," he said.
Crawford grew up in Cortez, earned a degree in literature from the University of Florida, studied comparative literature at the University of Erlangen in Germany, and is the holder of two advanced degrees from Harvard.
He taught high school English and retired as a school district superintendent in California. He also spent 40 years as Army Reserve officer and retired with the rank of colonel.
"I live in Cortez, and I grew up in Cortez. My third line of work, even now, is as a commercial fisherman," Crawford said, noting that he previously wrote a series of books for youngsters that detail the skills and equipment needed to harvest food from local waters.
Crawford will be selling his books at the Commercial Fishing Festival taking place in Cortez in February. His self-published books can be purchased online at Amazon.com, in print and Kindle formats, and he can be contacted directly at drjbcrawford@hotmail.com.