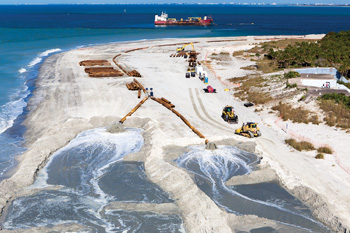 PHOTOSFROMTHEair.com | sun
Work progresses on a $13.4 million renourishment
project at Egmont Key to battle large-scale erosion of
the historic Isand's beaches.
EGMONT KEY – New sand is being brought to this small island to build up the beaches where the ruins of historic Fort Dade stand eroding into Tampa Bay and the Gulf.
The sand, which comes from a maintenance dredging in the bay, will be used to extend the beach of this vanishing key and the Army Corps of Engineers plans to put geotextile tubes out into the water from the beaches to slow down the erosion. The Corps awarded a $13.4 million contract to Great Lakes Dredge & Dock Company of Oak Brook, Ill., to perform maintenance dredging of Tampa Harbor along the Egmont and Mullet key channel cuts. The sand dredged from there will go to Egmont Key's renourishment. The maintenance dredge will remove up to 875,000 cubic yards of sand along 17 miles of channel to improve navigation safety. The Corps predicts the project will be done by early spring, weather permitting.
The first sand is being put down on the north beach, which is the most eroded, according to project engineer Andy Cummings, and it will progress to the western beach.
Workers will be cognizant of the wildlife in and around the water, Cummings said. Sea turtles might be relocated through the use of open trawlers, if there are a lot in the area during the project. Egmont Key is home to gopher tortoises, nesting sea turtles, sea birds and winter migratory birds.
Erosion on the western shoreline has caused a significant loss of beach nesting area for the turtles and wiped out rows of palms that simply fall into the water.
Fort Dade was built in 1899 just after the Spanish American war to defend the bay from possible attack. A lighthouse built in 1858 still stands and remains in use today.
The Corps asks Egmont Key boaters and beach enthusiasts to observe construction signs and use extra caution during dredging operations.
For more park information, go to www.floridastateparks.org/egmontkey/ and click on http://egmontkey.info/page-1251146.