Vol. 16 No. 10 - January 6, 2016
FEATURE
Area woman named Caregiver of the Year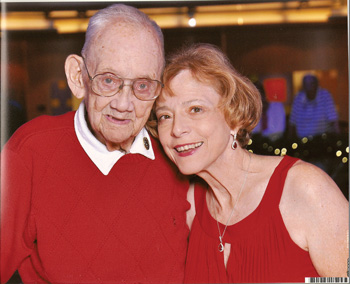 submitted
Linda Thomas takes care of her 97-year-old husband,
Larry, who has dementia, and she was called on to tell her
story to members of congress who represent Florida.
BRADENTON – Linda Thomas is a remarkable lady.
An attorney who worked out of her house with her husband, Larry, she finally retired to take care of him full time.
Larry Thomas, 97 years old, suffers from dementia and chronic obstructive pulmonary disease, or COPD. He lives at home too, and Linda is his caregiver.
Recently, Linda Thomas entered a contest, sponsored by the American Association of Retired Persons (AARP) and she wrote about her experience caring for her husband. A few weeks later, she was awarded the "Caregiver of the Year" award for Florida.
"They had me send in a picture of myself, and they had it turned into an oil portrait, which was displayed for a day in the Capitol," she said. "They also wanted me to speak with elected officials in Washington DC about the need for support for caregivers.
Linda Thomas got a call from Senator Marco Rubio's office while on her way to the Capital and after meeting with his aides she talked with Florida Congressman Vern Buchannan.
Thomas said those who tend to family members are a forgotten group.
"Statistics show that 33 percent of the caregivers die before their patients," She said. "It would cost $500 to $1,000 for a caregiver to have a three-day weekend twice a year compared to $9,000 for a caregiver to spend a few days at Blake Medical Center recovering from the stress of caring for a loved one. We would like to see legislation to provide for that."
Thomas said her husband of 48 years came down with dementia in 2006.
"I want him to be comfortable, but I'm to the point where I might need professional help for myself," she said. "It has been a fantastic experience telling the world what caregivers need."
Thomas said she is there for her husband all day and night, and he knows who she is.
"There is this Velcro effect that when I leave the room, he follows me," she said. "The sleep deprivation is the worst, but I feel very fortunate to be able to keep him at home."
Thomas said they have a wonderful marriage, and they have been able to take cruises together.
"We've had 35 cruises together, and I hope he can make one we have planned for the end of February," she said. "We have a family member who is going to get married on the ship."
Thomas said she is proud to represent Florida to lobby for caregivers help, and she hopes it does some good for Congress to hear testimony from those who take care of family members.