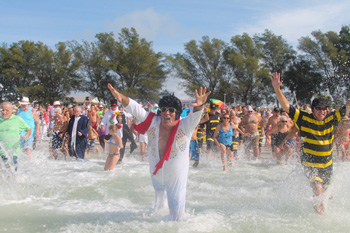 tom vaught | SUN
Elvis left the beach and entered the water on New Year's Day
for the Eighth Annual Clancy's Shamrock Shiver, a fund-raiser
for local charities, which included a costume competition,
won by Bill Capobianco (Elvis).
BRADENTON BEACH – It was a party on the beach New Year's Day as nearly 100 people came out to watch, or participate in, Clancy's Irish Pub's Eighth Annual Shamrock Shiver at Cortez Beach. The purpose of the event is to raise money as people enlist friends and loved ones to donate a certain amount to see them run into the chilly waters of the Gulf of Mexico during winter.
If those generous friends and loved ones had donated by the number of goose bumps raised, they wouldn't have raised any money. The temperature was in the 70s, and so was the Gulf.
On a day where the only people in the water would be those daring participants, they had to ask some kids in the water to move out of the way before they made their dash into the water.
Fair weather didn't put a damper on the daring escapade. There was a new angle this year, a costume contest, and there was a group of Island residents dressed like honeybees, a priest in a long robe, a snowman with a red nose, and Elvis was on the beach as well. In fact, Bill Capibianco, the man in the Elvis suit, took first place in the costume contest.
The Shamrock Shiver has its roots in the real shivers in those polar bear events up North, according to organizer Jan Crudelle.
"A bunch of ladies from the New York area and Rhode Island were sitting on the beach during Thanksgiving when one of them suggested it as a way to raise money for charity," she said. "They decided to come back during New Year's Day and try it, and they made $11,000 that first year."
According to another participant, Don Rothgery, 30 people made the plunge that first year.
The money raised goes to the Florida Winefest Auction, a group that directs the donations to local charities in Manatee and Sarasota Counties.
At press time, the organizers were still expecting more money to be collected and they could not provide a total amount at this time. Overall, the have collected more than $144,000 for the charity.
The mantra of the Shamrock Shiver's organizers is, "Give where you live."