Beavertail Skiffs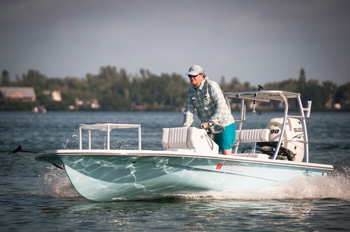 Rusty chinnis | sun
On the flat or on plane the Beavertail handles with easy and efficiency
When Steve Traves, of AMI Outfitters, decided to buy a boat he did what he always does, check locally. "I kept hearing the name Beavertail come up and found more and friends of the store who owned them or knew someone who did. I decided I had to take a closer look for myself, so I made an appointment to stop by the shop in Palmetto and see the operation.
I was pleasantly surprised at how they custom built them from scratch in a few short weeks with a crew of local men. I discovered that these guys were specialists at all aspects of the build. Each one understood every integral part. These were not employees on an assembly line. These were career minded people who wanted to be part of something great. These were family men with kids to feed. I made my decision right there in the factory."
Beavertail Skiffs is owned and operated by Will and Elizabeth Leslie, of Aeon Marine LLC. As Traves found out, they have a crew skilled in all phases of the boat building process. They got their beginning in customer service as Bayside Marine Services, doing everything from boat detailing to minor repairs. This grew into a custom restoration shop specializing in old classic boats. There are a lot of these Chris Crafts, Makos and Aquasports in the Manatee and Tampa area today. This grew into a customer base and an understanding of what customers wanted.
This then evolved into doing warranty and service work for some of the major boat builders. With all this experience, it was only natural that they would develop their own boat, which became the 23 center console Aeon, a classic Tampa style tower boat. They then met the owners of Beavertail Skiffs, based in Minnesota, who wanted to move their production to Florida, where 90 percent of their boats were being shipped. When that happened, Aeon was contracted to do Beavertails' tooling, help design the boats and make the molds.
This then led to Aeon buying out Beavertail after two years. By consulting with guides in the shallow water industry, Beavertail Skiffs worked to refine the original skiff by employing advancing technology and offering a design that combined performance, quality and durability. Potential clients are encouraged to run the various skiffs and compare them to decide which is best for their fishing and boating style. This is the way to test the draft, hull slap and stability, ease of poling, the dryness and comfort of the ride.
What they call their "Try Before You Buy" program is a testament to their confidence in their product. Clients have the opportunity to spend a half day with a Beavertail Skiff captain to fish and experience first-hand the skiffs' performance. Customer service is paramount.
The skiffs are built using 100% composite materials, Vinyl ester resin is used for its strength and fatigue/ corrosion resistance. A light weight, high-density foam cell core eliminates moisture penetration and gives structural support. The hulls undergo a process known as vacuum infusion. Vacuum bagging as its commonly known produces consistent strength in all parts of the boat. All elements of the skiff are rigorously inspected and then move to the assembly stage. Assembly is considered the most important part of the boat build process. Will Leslie oversees the entire assembly and inspects the final fit.
Traves chose the BVT their latest design which features an 82″ beam, providing a larger cockpit and additional storage. The bench seating has a comfortable backrest, a large comfortable poling platform and a 30-gallon oval live well. In addition, there are two aft dry insulated storage compartments that can be used as coolers or plumbed for release wells. Traves boat also is fitted with top of the line Livorsi controls, a jack plate and a 90 HP Suzuki outboard. Push pole, under gunwale red LED lights and more make for a beautiful ride. Lenco trim tabs, engine trim and jack plate provide ultimate control in any sea or depth.
I had the pleasure of fishing a day with Traves on his new skiff and poling the flats as well as running crab trap markers in a choppy Gulf looking for tripletail. In the time I had on the boat, I found that it performed as advertised. The ease of poling, smooth dry ride and fit and finish impressed me. But you don't and shouldn't take my word for it. You won't need to with their "Try Before You Buy" program. For more information and specifications on all their models, visit their Website at http://www.beavertailskiffs.com/