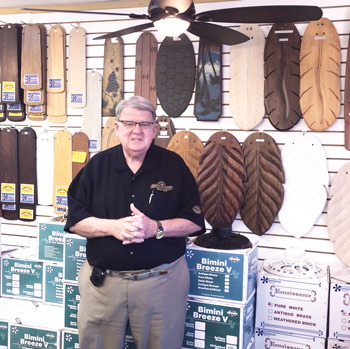 LOUISE BOLGER | SUN
Manager Walter Hunt will educate you on the science of ceiling fans.
Ceiling fans have come a long way from the days before air conditioning, when they were the only way to beat the heat. They first appeared in the 1860s, powered by running water, and flourished in popularity with the availability of electricity. They fell out of fashion for decades when air conditioning was more widespread until the early 1970s leading up to today, when ceiling fans are a staple of practically every home in the southern region of the United States.
Based on their popularity, it's almost guaranteed that you will be shopping for a ceiling fan at some point. And when that day happens, Dan's Fan City on Cortez Road near 18th Street will provide you with 78 models to choose, from as well as the ability to customize the fan that works best for your home.
Walter Hunt, the manager of the corporate owned Dan's Fan City, will provide you with an education on the science of ceiling fans. In his low keyed informative manner, this former northern Virginia resident, is an expert on what size and style of fan is best for your environment. He is performance focused and will walk you through the basics of ceiling fan efficiency, indicating that the pitch of the blade not the size of the blade is the most important feature. The objective is to design a fan that, when running on a low speed, will create the most efficient air movement. All fans at Dan's are three speed and reversible.
Dan's Fan City was started in 1979 in Clearwater and quickly grew to the point where today it has more than 40 locations throughout seven states and is America's largest independent ceiling fan retailer. Originally it marketed products from existing ceiling fan suppliers but in 1983 it purchased Gulf Coast Fans in order to provide customers with the ability to choose a variety of styles, finishes and modifications to better meet their needs, as well providing quality fans built in its own factory.
Dan's has a large inventory of fans right in its Cortez Road shop and specializes in outdoor fans that are constructed with marine grade stainless steel. Walter Hunt explains that outdoor fans are either damp rated, which are good for moist outdoor areas, but not areas where there is direct water, and wet rated designed for direct water contact. The Raindance model is rated for direct water contact. All fans have a minimum warranty of 30 years and some have even longer, and any problems will be conveniently handled at the Bradenton location.
High end and decorator fans are one of Dan's specialities providing a large selection of lighting and blade options. However, prices competitive on standard fans and the store also provides parts, service and accessories for ceiling fans. Arrangments can be made to have your fan installed by a licensed electrician with a very attractive installation pricing schedule.
After walking around Dan's, you'll have a whole new appreciation of ceiling fans when you see some of the modern choices available, as well as the attractive blade choices. My favorite was a sleek three blade honey in shiny white with a remote control and a timer called Vogue.
There's no doubt that today's ceiling fans not only provide efficient air movement, but also make a fashion statement. The only problem is you will have a hard time making up your mind between the Bombay, the Cabana Breeze or the Tornado, but there are worse predicaments to be in. Dan's Fan City – more than you ever thought a ceiling fan could be.
DAN'S FAN CITY
1808 Cortez Road, Bradenton
941-755-3262
Monday – Saturday:
9 a.m. to 6 p.m.
Sunday: 11 a.m. to 4 p.m.
www.dansfancity.com
All major credit cards accepted