Vol. 16 No. 17 - February 24, 2016

FEATURE
So many wines…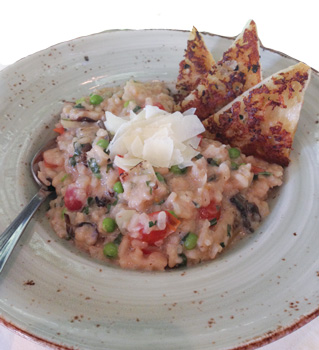 submitted
Spring Garden Risotto is a delicious and colorful dish.
It's a new year and season is upon us already. Our snowbird friends are back and the tourists have joined them once again.
One good thing that happens when it gets busy like this is that the volume of business is so great we in the restaurant trade have to order more specials to offer our guests so you all can visit your favorite establishments without having to have the same old thing each time.
Wine drinkers have the good fortune of seeing new offerings everywhere they look, whether on television commercials, in magazine and newspaper ads or up and down the rows of products at the grocery or liquor stores, but how do you make your selection?
Everyone wants a good deal. Delicious, quality wines with character and complexity are the kind that makes you say you thought that would have cost twice what you paid for it. Great middle ground wines are the goal. You don't want supermarket bargains or special occasion wines that cost you an arm and a leg. You must think about what factors influence a wine's price and whether or not those factors really improve the quality of the wine that much.
Wines from the Napa Valley can be delicious, but if the land costs $100,000 an acre, how much does that affect the cost of a bottle? If a great bottle of Burgundy is one of only 120 cases produced, how much does that affect its value? What about wine futures and the influence that a great vintage has on the cost of those wines? These are just a few of the factors involved in pricing a wine.
Let's talk about picking out a wine that offers more bang for your buck. One way to find wines like this is to spend a little time investigating. Using past tasting experiences as your reference, what varietals do you prefer? Trying new grape varietals similar in style, but not at the same price point, will save you some money.
If you like chardonnay why not experiment and try a torrontés or a viognier? Instead of merlot you might try an Italian grape, dolcetto perhaps. At the least if you insist on a cabernet sauvignon try one from Chile instead of from the Napa Valley. Don't forget that vintage factor too. Rather than picking the vintage of the decade, use a shoulder vintage, one of the wines still available from an almost as good year.
Where do you do your investigating? Find a few favorite sources such as the wine steward or manager at your preferred restaurant or the salesman at your local wine store and pick their brain. Purchasing a couple of reference books will definitely help you in your search.
My favored reference books are Hugh Johnson's "Pocket Encyclopedia of Wines" for quick reviews, and Karen MacNeil's "Wine Bible," the most informative and entertaining book on the subject I've ever used. Online I enjoy Wine Folly, which offers loads of charts, maps, ratings and much more and from that site you will get offers galore for similar Websites.
If you enjoy using Pinterest, there are loads of boards on wines, both educational and amusing. I personally have numerous boards filled with information I've created under my own account that I use as a reference for my staff, friends and anyone who happens upon it looking into the topic of wine. If you are curious, feel free to go to Pinterest.com and type in my name under "pinners" and you will be directed to my boards. I hope you enjoy it and are able to refer to it as the subject arises.
Good luck to you in finding some new favorite wines, and don't forget to check out the daily specials at The Waterfront restaurant for some good food and wine pairings. Until next time my friends …
Spring Garden Risotto
Ingredients:
1 ½ cup Arborio rice
¼ cup olive oil
1 Vidalia onion, diced small
6 oz. white wine
28 oz. vegetable or chicken stock
½ c.up spring peas
½ cup cherry tomatoes, sliced in half
½ c.up crimini mushrooms
4 oz. grated Parmesan
Directions:
Put the stock in a pot on high heat. As it is coming to a boil, in another pot, sweat the onion in the olive oil. As the onion turns translucent, season it with salt and pepper, then add Arborio rice. Toast the rice and onions on low heat. Once you smell the fragrance of the toasted rice, add the white wine. Next slowly stir in the stock, 6 oz. at a time. Once you have added half of the stock , add vegetables and keep stirring with the rest of the stock. To finish, stir in Parmesan cheese, season one last time and serve in bowls.