'Looking Through Water'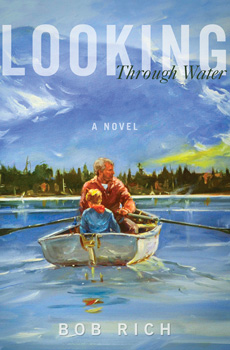 rusty chinnis | sun
The cover of Rich's new book, "Looking Through Water."
Bob Rich of Islamorada, Fla., is a man of many talents, spanning business interests to fishing, writing and philanthropy. In addition to his many other abilities, he's the long-time chairman of the board of the renowned Cleveland Clinic, and for more than a decade has been the host of fishing tournaments that have raised millions of dollars in a search for a cure for Cystic Fibrosis. The five-time author is receiving five-star reader ratings for his newest novel, "Looking Through Water."
Rich is also the author of four other popular non-fiction books, but has always wanted to do a novel.
"When I started, I found the best way to begin was to set it against backdrops I've always loved – fishing, Adirondacks lakes, Manhattan and the Florida Keys."
The novel is a love story and an action adventure story, filled with conflict, emotion and healing. It's a great coming of age tale and since it's the Keys, fishing too!
"It has all the elements for a good story," Rich said. "Inventing colorful characters and plot twists was great fun and I've enjoyed reader's reactions."
In addition to Amazon, "Looking Through Water" is also available at Barnes and Noble, its Website and at BobRichBooks.com. The proceeds from Rich's novel benefits Project Healing Waters, dedicated to helping injured veterans and active duty military heal from physical and emotional wounds through fly fishing.
Rich also continues to raise millions for Cystic Fibrosis at his 15th annual BassEye celebrity fishing tournament in Buffalo, and the 15th Golden Isles Red*Trout event on St. Simons Island, Ga. There's a lot more on Looking Through Water plus videos of Bob talking about the novel at his Website.
"Looking Through Water" is the story of one man's journey to self-awareness and much more. In this, his first novel, Rich explores the raw emotions that make up the intricate tapestry of family structure through truth, lies and misunderstandings. In the novel, William McKay finds himself reliving his past to help his troubled grandson, Kyle, deal with the present. The old man wants desperately to discover what is troubling the boy and hopes that sharing his own convoluted journey to self-discovery will lift him from his dark place.
The story begins on an Adirondacks lake and winds its way through Manhattan to the Florida Keys. The novel is rich with flamboyant characters from the grandfather's past that come to life to help tell a story full of surprises and suspense.
Just as the young McKay appears to be on the brink of permanent unmooring, a beautiful stranger unexpectedly arrives to provide the tethering he has always sought. The story, through twists and turns, reveals old wounds, nerves laid raw, wrongs rectified, and lives threatened, ending as understanding surfaces and love arrives.
Three of his other four other books are centered on fishing: "The Right Angle," "The Fishing Club," and "Fish Fights: A Hall of Fame Quest." Rich has also co-authored a motivational book with Scott Friedman, "Secrets From the Delphi Café: Unlocking the Code to Happiness."
Anglers will find Rich's new book connects them not only to fishing, but to the essence of friendships and relationships forged on and off the water.