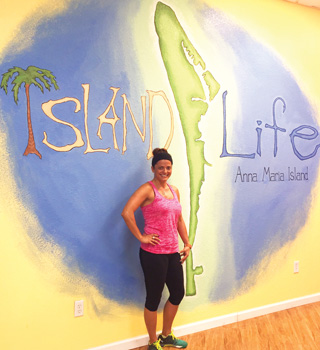 LOUISE BOLGER | SUN
Brenda Canning, owner and trainer, offers a variety
of classes and programs.
It's July and by now you're probably ready to rip every piece of clothing off your body, and as soon as you get that exercise program going and finish eating all the diet food you bought, you're going to do just that. But just in case your plans aren't going as well as you expected, there is another way, call a fitness professional.
Brenda Canning who has owned Island Fitness Anna Maria for the past 8 seasons has a full menu of fitness programs that will fit everyone's fitness level and schedule. She is putting a special emphasis on kids' fitness training this year, an area frequently overlooked.
Relocating to Bradenton 15 years ago from the Boston area where she like so many other transplants was done with the cold and snowy winters, Canning brought her 20 years of fitness experience with her.
She is a graduate of the University of New Hampshire and is an AFAA Certified Personal Trainer. She also trained for three years with the US Olympic Field Hockey Team and competed in the 1996 Summer Olympics.
The facility at Island Fitness is bright and immaculate with a separate cycle room, group fitness room with gleaming wood floors, locker rooms with shower facilities, a free weight room and, of course, the main gym with all of the circuit equipment.
There are two other personal trainers besides Canning, Tammy Bryant and Stephanie Bellil, who are all certified through national organizations and are trained specifically for balance, strength training and flexibility. Personal training can be arranged for a half hour to a full hour and is available in packages. In addition, there are eleven group fitness instructors.
Island Fitness is open 24 hours a day, but staffed according to published hours. You can sign up for many group fitness classes like yoga, group indoor cycling and other specifically targeted group classes, posted on Island Fitness's website. In addition, you can sign up for a boot camp that runs three to five days a week and does not require a membership to the gym. For six weeks you train and work out with the same group, are measured and counseled on nutrition. Also during this time, the facility is available to you.
But Canning's real passion is kids' fitness, and this is the year she is expanding programs that she has had in place putting an emphasis on activity and nutrition. Her tiny tumbling classes have been very successful, as well as her summer kids' fitness program that ran 9 a.m. to 11:30 p.m. five days a week. Starting during the school year she will have kids' fitness available three to five days a week after school for a one-hour class that she oversees.
The kids' programs are geared for elementary level students, and parents can work out in the gym during the time the kids are in their class at discounted, short-term rates. You would think that kids have a natural energy level and are already fit, but with today's emphasis on electronics and fast food, it's easy for them to quickly get off track.
Island Fitness has a variety of rate schedules. You can simply drop in for one rate or sign up for anything between one to six months or annually, and annual and seasonal residents do not have to sign a contract. Student and military discounts are available, as well as gift certificates and there are corporate rates available for Island businesses. You can also purchase Island Life shirts and tank tops for men, women and children.
Brenda Canning has been recognized by the Anna Maria Island Sun's Readers Choice awards for six years as personal trainer and four years for Island Fitness. She is passionate about fitness and wants you and your children to be passionate too.
Since it's always summer in Florida, you have no excuses and no hope of hiding under long pants and sweaters. Do yourself a favor and call Island Fitness and learn to love the Island life.
ISLAND FITNESS ANNA MARIA
5317 Gulf Drive
Holmes Beach
Gym: 941-778-5200
Cell: 941-704-8858
www.islandfitness annamaria.com
All major credit cards accepted
Open 24 hours
Summer staffed hours:
Monday-Friday: 6 a.m. to 4 p.m.
Saturday: 8 a.m. to 2 p.m.